Spotlight
Going Beyond LEEDs, Beautifully, In Iowa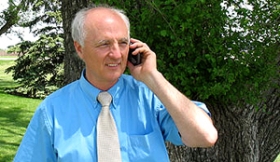 Fairfield, Iowa - On a quiet beautiful 156 acre parcel of farmland a little north of Fairfield Iowa, developer Dan Walker gazes out at his dream and brainchild: a 'green' development that goes a long step further. Welcome to Cypress Village, a first of its kind green community in the world. Not only will all the homes be certified and built to Platinum or Silver LEED quality specifications, but the village will incorporate organic permaculture agriculture. Further Walker's architects have designed the homes to reduce energy consumption by 70% and build only according to an ancient system of architecture called "Maharishi Sthapatya Veda". And, one more thing, the land is free. More about that later.

Walker has been working closely with an award-winning LEED consultant, designer and sustainability expert, Martha Norbeck. Together, his team has crafted a village that pushes the envelope of green building with a combination of ancient wisdom and modern sustainable design features.

The new community is located in Jefferson County Iowa, the southeast corner of the state, home to corn and soy fields and nearby Fairfield, the home of Maharishi University of Management, an acredited four year university with a long-standing focus on meditation practice, consciousness-oriented solutions, organic food, sustainability, and increasingly ancient architecture principals embodied in the building system called "Maharishi Sthapatya Veda" (pronounced stah-pot'-ya-vade). The new village will include all of these features as the largest and first green subdivision of its kind anywhere in the world. It's designed for 156 housing units and 375 people.


Walker's architects designed 11 'green' Maharishi Sthapatya Veda homes in an extensively integrated subdivision full of ammenities that raises the green bar. Prices range from $98,000 for a 578 square foot home 1 bedroom condominium, to $422,000 for a 3,047 square foot home. Plans include a duplex, triplex, fourplex and eight plex. The homes will also meet the Iowa electrical, plumbing, mechanical and building codes.

A word about Maharishi Sthapatya Veda. Walker explains that this ancient building system applies both macro and micro or outer and inner considerations of sustainability and 'green'. According to the ancient texts of this design science, a building's orientation, proportions and placement has a direct positive or negative effect on the inhabitants of the building. Sthapatya buildings are said to enrich both knowledge, fortune and health, generating calm, coherence and peace of mind. The system emphasizes the use of organic materials, sustainable materials, pollution-free living and respect for the ecology of both the land and the individual, ELF-minimized construction and natural light among other things.

The Cypress Village development will include standard electric hookups, but because of the energy efficient designs are expected to deliver a 70% energy savings. Homes will include solar panels and community-wide wind generation is also planned. Walker's design engineers project net-zero usage of electricity and no natural gas use. And if you're wondering, Cypress Village is located away from hog confinement facilities.

As part of a push into locally grown, minimally transported, and a low carbon-footprint food model, the development will also include sustainable, self-contained agriculture.
Walker says the idea is simple, but profound, "We want to support rural communities with fair treatment of everyone in the food system, from farm workers to consumers. I feel the sustainable agriculture movement benefits the natural environment and maintains basic natural resources. We designed a development that respects healthy soil, clean water, and clean air."

The village is designed to include pasture for raising livestock, reducing or eliminating the use of synthetic pesticides and fertilizers, and direct marketing of specialty products to consumers. The designers of Cypress Villages say the new agricultural production will exceed the production of the land prior to development. The development is transitioning 30 acres of grain fields from conventional to certified organic. The village is phasing out any non-organically certified land, into certified organic land over the standard 3-year time frame. The development will generate agricultural income for both transitional and organic crops with guidance from organic agriculture expert Dr. Sam James.

Besides being in a beautiful progressive part of Iowa, village amenities will enrich community to life. Fairfield is a long-time home of thousands of practitioners of Transcendental Meditation and Walker and his architects have incorporated a meditation hall for group practice along with parks, walking trails, an outdoor Amphitheater, integrated community horticulture and nearby offices and Eco-Mall. Walker say he wants to reduce commuting by designing much of what is needed in the village. The development boasts one of the lowest tax bases in the county. In a nice twist, homeowner association fees will be offset by the energy generated by the homeowners association.
Walker's plans include standard warranties and a novel and attractive twist - the land is free. Homeowners will pay for infrastructure costs, roads, utilities and so on, but the land itself is, yes, free.
No surprise, pre-sale of Cypress Village properties have already begun.
For more information: http://www.cypressvillages.com
For more on Sthapatya Veda: http://www.sthapatyaveda.com/