Powerful Hurricane Dean threatens Jamaica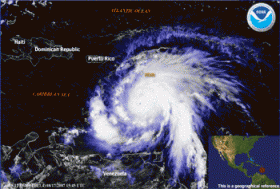 KINGSTON - Jamaica declared a curfew and troops and police patrolled the streets on Sunday as Hurricane Dean bore down on the island as a ferociously powerful storm, having already killed five on its path through the Caribbean.
Tempers flared in shops where Jamaicans scrambled to get last-minute emergency supplies as Dean began to lash the mountainous island with heavy rain, and the government opened shelters and urged residents of low-lying areas to evacuate.
The hurricane was a dangerous Category 4 storm, the second-highest on the five-step Saffir-Simpson scale, and could yet strengthen into a rare and potentially catastrophic Category 5 as it heads toward Mexico's Yucatan Peninsula on Monday, the U.S. National Hurricane Center said.
Jamaican police and soldiers patrolled the capital Kingston to prevent looting and the government declared a 48-hour curfew in industrial areas and bussed people to evacuation centers. Mudslides were reported north of Kingston in the communities of Maryland and Dallas.
Some residents of one low-lying seaport town close to Kingston refused to flee.
"We are going nowhere," Byron Thompson said in the former buccaneer town of Port Royal, settled by pirate Henry Morgan in the 16th century. "In fact, if you come by here later today you will see me drinking rum over in that bar with some friends."
The Jamaican power company said it would switch off electricity after 10 a.m. local time (11 a.m. EDT).
Gas stations closed and shoppers scoured the shops still open for batteries, flashlights, canned tuna, rice and water.
Two men came close to blows in one shop after one tried to break in front of a long queue."Too many of us have braved the weather to be out here in long lines, so people just can't come here and cut in," said Dave Brown, trying to buy bread and matches.
Campaigning for August 27 elections was halted.
Dean packed sustained winds of 145 miles per hour (230 km per hour) and its eye was about 130 miles east-southeast of Kingston at 11 a.m. EDT.
STORM WARNINGS
Hurricane warnings were also in effect for the Cayman islands and parts of Haiti and a tropical storm warning was issued for parts of Cuba and the Dominican Republic.
One man was killed in Haiti when a tree fell on a house in Murun, in the southwestern province of Grand Anse, said Silvera Guilleume, the area's civil protection coordinator.
That brought to at least five the number killed by Dean since it roared between the Lesser Antilles islands of Martinique and St. Lucia on Friday as the first hurricane of what is expected to be an active 2007 Atlantic storm season.
Landslides triggered by the rain also destroyed several hundred houses in southern Haiti and damaged crops but there were no reports of further deaths, said Alta Jean-Baptiste Civil Protection director on the island of 8 million.
Dean was moving west-northwest at 18 mph (30 kph) and was being watched closely by energy markets, which have been skittish since a series of storms in 2004 and 2005 toppled Gulf of Mexico oil rigs, flooded refineries and cut pipelines.
The latest computer models showed Dean tracking just to the south of Jamaica. That could mean its most damaging winds in the northeast quadrant could slam Kingston.It was then expected to pass the Cayman Islands, a wealthy British territory, hit Mexico's Yucatan early in the week, and after that go into the central Mexican coast.
Mexican authorities began evacuations from the Caribbean coast, while U.S. President George W. Bush issued an emergency declaration for Texas to free up federal help and funds.
The U.S. space shuttle Endeavour hastily departed the orbiting International Space Station in order to land back on Earth a day ahead of schedule in case the storm forced NASA to evacuate its mission control center in Houston.
Cuba declared a hurricane emergency for the southeast provinces of Guantanamo, Granma and Santiago de Cuba, and westernmost province of Pinar del Rio and the Isle of Youth, evacuating tens of thousands of people from low lying areas.
Category 5 hurricanes are rare but in 2005 four hurricanes reached that strength including Katrina triggering debate about the impact of global warming on tropical cyclones.
(Additional reporting by Joseph Guyler Delva in Port-au-Prince, Marc Frank in Havana, Michael Christie in Miami, Carlos Barria and Carole Beckford in Kingston, Manuel Jimenez in the Santo Domingo, Shurna Robbins and Alan Markoff in George Town and Anna Willard in Paris)