Hurricane Humberto slams into Texas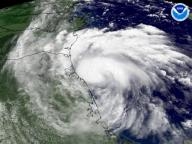 HOUSTON (Reuters) - Hurricane Humberto rumbled onto the upper Texas coast on Thursday with 85 mile per hour (135 kph) winds and heavy rains that threatened widespread flooding.
The storm, which brewed up in the Gulf of Mexico on Wednesday, made landfall near High Island, about 30 miles northeast of Galveston, the U.S. National Hurricane Center said in a report at 3:10 a.m. EDT (0710 GMT).
Humberto had been expected to come ashore as a tropical storm, but suddenly strengthened in the gulf's warm waters.
It struck a lightly populated area, and there were no reports of damage or injuries. The storm was expected to plow through southeastern Texas and head east into Louisiana, where officials braced for flooding.
Humberto was a minimal, Category 1 storm on the Saffir-Simpson scale, but forecasters said it could dump up to 15 inches of rain because it was dawdling along at just 8 mph (13 kph).
Galveston reported 5 inches of rain as Humberto eased past on Wednesday, headed toward the Texas-Louisiana border.
A hurricane warning was in place from High Island to Cameron, Louisiana, which was still recovering Hurricane Rita in 2005. Rita struck the Texas-Louisiana border region three weeks after Hurricane Katrina devastated New Orleans.
Humberto was the third hurricane of the 2007 Atlantic hurricane season, and was dwarfed by its ferocious Category 5 predecessors Dean and Felix.
They struck Mexico and Central America, respectively, with Felix leaving at least 130 dead.
Texas and Louisiana officials positioned emergency teams and rescue equipment in the path of Humberto.
Louisiana Gov. Kathleen Blanco declared a state of emergency while Texas Gov. Rick Perry vowed to "work with local officials to provide the state resources necessary to ensure the safety of all Texas residents."
The Texas-Louisiana border area is a major oil-producing and gasoline-refining area, but industry officials predicted little impact to operations.
The hurricane center said at 11 p.m. EDT (0300 GMT) another storm, Tropical Depression 8, was located 1,005 miles (1,620 km) east of the Lesser Antilles islands of the eastern Caribbean Sea and moving west-northwest at 12 mph (19 kph).
It had not yet strengthened as expected, but was likely to become a tropical storm on Thursday, forecasters said.