Typhoon to Spare Shanghai After Losing Power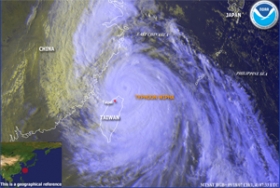 SHANGHAI - Typhoon Wipha abruptly lost strength after it crossed the eastern coast of China on Wednesday and looked set to miss Shanghai as it headed north.
However, the storm toppled hundreds of homes and knocked out power and water supplies as it swept in from the sea some 650 km (400 miles) south of the country's financial hub.
More than 2 million people had been evacuated in the coastal provinces of Fujian and Zhejiang and Shanghai ahead of what officials had predicted would be a powerful and destructive typhoon.
But forecaster Tropical Storm Risk downgraded Wipha to a category one typhoon from a powerful category 4 after it made landfall and said it would weaken further into a tropical storm as it headed north towards Nanjing.
Its projection showed the eye of the storm passing some 250 km (155 miles) to the west of Shanghai within 24 hours.
Xinhua news agency said Wipha was approaching Shanghai at 20 km (12 miles) per hour, but that it had already been downgraded to a tropical storm.
One man was electrocuted in Shanghai ahead of the storm on Tuesday, but there were no other immediate reports of casualties.
Xinhua news agency said Wipha, a Thai name for a girl, toppled 669 houses, disrupted power supply in 1,867 villages and "affected" about 5 million people, causing direct economic losses of $38 million.
Officials reached by Reuters said it was too early to assess the damage. Sometimes such reports take hours before being released by state media.
The typhoon landed at Cangnan County, south of the city of Wenzhou, in Zhejiang province, near the border with Fujian -- just where Typhoon Saomai hit last year, killing hundreds.
The densely populated area is home to many small businesses and factories, with a mixture of modern buildings and older brick homes.
Several thousand residents who spent the night in temporary shelters such as schools were able to return home in the Zhejiang township of Xiaguan, where Wipha hit at 2:30 a.m. local time.
"The wind is basically over and the rain is all right. But the whole township has been out of tap water and electricity since midnight," a Xiaguan township official, surnamed Yang, told Reuters by telephone.
Yang said authorities were inspecting damage in Xiaguan's outlying villages, where some roads were cut off.
Dozens of flights to and from the nearby Wenzhou airport were cancelled on Tuesday.
Wipha had gust winds of up to 90 km (56 miles) per hour at 0100 GMT, compared with 162 km when it landed, China's meteorological centre said on its Web site (www.nmc.gov.cn).
Typhoons regularly hit China, Taiwan, the Philippines and Japan in the summer months, gathering strength from warm sea waters before weakening over land.