Ban Urges Strong Message From Climate Summit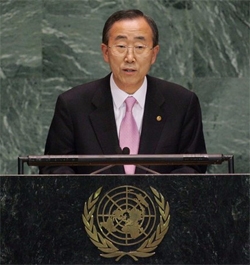 UNITED NATIONS - U.N. Secretary-General Ban Ki-moon called on Tuesday for a climate change summit he has convened next week to send a "strong political message" to enable a "bold" new global environment pact to be negotiated.
"The science has made it quite clear," Ban told a news conference. "We have been feeling the impact of global warming already ... We have resources and we have technologies. The only (thing) lacking is political will.
"Before it is too late we must take action."
The U.N. chief said he had been encouraged by the response to the summit he has called in New York for September 24, with some 80 heads of state and government among 154 speakers listed so far. The event will precede the annual U.N. General Assembly gathering of world leaders.
The New York summit will not be a forum for negotiations, which will be left to a U.N.-sponsored meeting of environment ministers in December in Bali, Indonesia, but Ban said it could provide crucial impetus.
"What I want to achieve at the end of this particular event is a strong political message at the leaders' level for the climate change negotiations in Bali," he said.
Diplomats hope the Bali meeting will agree to start talks to find a successor to the Kyoto Protocol, the only worldwide deal on cutting carbon emissions blamed for global warming. The pact expires in 2012.
"We need to move fast and reach a bold agreement by 2009, so that it can enter into force by the end of 2012," Ban said. "We must not leave any vacuum after the expiration of the Kyoto protocol."
Ban said he saw no clash between the New York summit and a gathering of the world's biggest greenhouse-gas emitting countries that U.S. President George W. Bush has convened in Washington on September 27-28, just days later.
"I think the main objectives and principles and goals we are working are all the same," he said. "While we welcome individual measures and initiatives by any countries, all these measures and initiatives should fit into U.N. efforts.
"I am encouraged that President Bush is also committed to this U.N. negotiating process," he said, adding that Bush had given him this assurance at a Group of Eight summit in June.
Ban also played down disputes between developed and developing countries over who should bear the brunt of carbon emission restrictions.
"The main goal and objective at this time is, rather than debating more on this difference of opinions, the whole international community must act together," he said.