Typhoon kills 12 in Philippines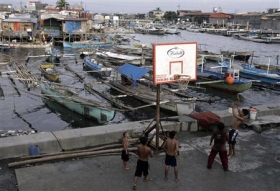 MANILA (Reuters) - At least four more people have been killed in floods and landslides in the Philippines due to a typhoon, taking the death toll from the storm to 12, relief officials said on Tuesday.
Typhoon Mitag swirled out to sea on Monday after ripping through the north of the archipelago.
A six-year-old boy and a 69-year-old man were killed in landslides in mountainous Kalinga province in the north while two people were drowned, relief officials said on Tuesday.
At least eight people have been previously reported killed in drownings, landslides and electrocutions caused by Mitag, a category 1 typhoon with winds of 120 km per hour (74 mph) at its centre.
The storm lost strength as it made landfall late on Sunday and currently its winds are at about 65 kph.
British typhoon tracking Web site Tropical Storm Risk (www.tropicalstormrisk.com) said Mitag (a woman's name from Yap in the Pacific Ocean that is pronounced Me-tok) has weakened to a tropical storm.
It said the storm was currently north of the Philippines and was likely to swing to the northeast into the Pacific, missing Taiwan's coastline.
At least four people are listed as missing in Philippines, including two air force pilots whose fighter plane went missing in stormy weather near the western island of Palawan on Monday.
Another tropical storm, Hagibis, was nearing Palawan after it made a dramatic U-turn over the South China Sea.
Hagibis, which has weakened to a tropical depression, killed 14 people in the Philippines last week.
(Reporting by Raju Gopalakrishnan; Editing by Jerry Norton)