India and EU to push trade and climate at summit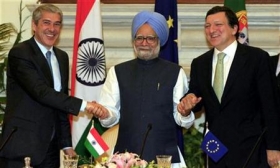 By Surojit Gupta
NEW DELHI (Reuters) - Leaders of India and the European Union will attempt to push forward a proposed free trade deal and seek common ground on tackling climate change during a summit later this week, officials said on Monday.
Indian Prime Minister Manmohan Singh and President of the European Commission Jose Manuel Barroso will also talk about energy cooperation and events in neighboring Pakistan when they meet on Friday.
"The full potential of India-EU relations has not been realized. The free trade agreement will give a new impetus to the relations between Europe and India," Daniele Smadja, EU ambassador in India, told a news conference.
The EU is India's largest trading partner, accounting for a fifth of India's total trade, and is also one of its most important sources of foreign investment.
Two-way trade between Europe and India stood at 46 billion euros and services trade at 10 billion euros, EU data shows.
Smadja said the two sides would hold wide-ranging discussions related to the free trade and investment pact, but did not give a timeframe for completion of negotiations.
Despite growing trade ties the two sides are trying to iron out differences in several areas, among them remaining duties on wines and spirits, food safety and industrial standards.
India in July scrapped a hefty additional customs duty on imported wines and spirits, a particular annoyance to the EU, with its Scottish whisky makers and French vineyards.
EU Trade Commissioner Peter Mandelson will also be in New Delhi, where earlier this year he and other trade negotiators met to bridge differences over the Doha round of free trade talks.
India, which is negotiating a similar free trade agreement with the 10-member Association of South East Asian Nations (ASEAN), hopes to wrap up the EU deal by the end of 2008.
The European Union is increasingly drawing up a web of free trade pacts in Asia after the United States and Japan made inroads to tap into the high growth potential of these economies.
European trade officials want to deepen discussions on sensitive areas with India such as removing barriers to trade in services, intellectual property protection and public procurement.
Smadja said despite differences over how to deal with climate change, the EU and India would air their views ahead of December's conference in Bali to formulate a replacement for the Kyoto Protocol.
"Climate change will be high on the agenda," she said.
India has refused to commit to emissions targets, saying it must use more energy to lift its millions out of poverty. The government says this is something rich nations, which have burnt fossil fuels unhindered for over a century, should understand.
(Editing by Mark Williams)