Sarkozy urges Chinese climate help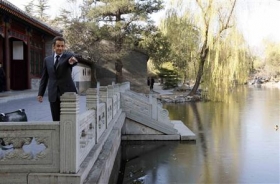 By Tim Hepher and Emmanuel Jarry
SHANGHAI (Reuters) - President Nicolas Sarkozy wound up a state visit to China on Tuesday buoyed by record deals for French firms, but unable to shake more than a deadpan response out of Beijing on jitters over currencies and the environment.
Sarkozy challenged China to play its part in tackling the problem of global warming after repeatedly urging Beijing to play its full part as a global power.
"I am proposing that China joins a new global pact, an ecological and economic New Deal," he told students in Beijing.
The scheme is seen as a bid to exchange clean technology and other incentives for Chinese participation in a post-Kyoto global pact that would impose cuts in its choking pollution.
It was one of a series of pragmatic trade-offs floated in a visit that saw Sarkozy link progress on climate and the weak yuan with French help on gaining improved access to Europe's market economy and membership of an expanded G8, officials said.
France wants China to allow its managed yuan currency to rise against the euro to reduce a record European Union trade deficit with China that threatens domestic French jobs.
Sarkozy hammered on the strength of the euro, telling French business leaders on a swing through Shanghai that the United States and Japan should also act to reduce economic imbalances.
"We won't be able to steady exchange rates alone," he said.
Sarkozy's visit overlapped with the arrival of European monetary officials to press the case for a stronger yuan.
French officials said Sarkozy felt progress had been made on the issue, with China open to talks, but Premier Wen Jiabao reaffirmed Beijing's gradualist approach to yuan flexibility.
There was also a muted response to Sarkozy's proposal that Beijing should spell out goals for curbing harmful emissions, something developing countries are not so far obliged to do.
"If we don't fix targets we won't succeed in avoiding catastrophe," he said in a speech to students at Beijing's Tsinghua University. "We can't have one response for Europe and one for Asia, one for the North and one for the South.
A commentary in Chinese state media said that from the Industrial Revolution until the 1950s, the developed world was responsible for 95 percent of global carbon dioxide emissions and accounted for 77 percent from 1950 to 2000.
"Therefore, on the problem of reducing greenhouse gas emissions, who should bear heavier responsibility goes without saying," it said.
Rapidly growing China is emerging as the world's biggest emitter of carbon dioxide, the main greenhouse gas from factories, farms and vehicles blamed for climate change.
Next week in Bali, the United Nations launches what it hopes will be two years of talks to find a successor to the Kyoto Protocol, whose initial phase ends in 2012.
INFORMAL BUT FRANK
Sarkozy's informal but frank remarks echoed earlier appeals to China to shoulder the responsibilities which go with its growing force in global politics, which marked the main theme of his first state visit to Asia since he was elected president.
Sarkozy was elected in May, promising to shake the dust off foreign policy and speak freely about French concerns.
Although he disappointed activists by leaving his human rights minister off the trip, he shook up protocol by raising human rights in front of an impassive President Hu Jintao.
But he balanced public forthrightness with strong reassurances over Taiwan and avoided public comment on Tibet, skirting an issue that has split China and Germany. Relations have suffered over Chancellor Angela Merkel's decision to receive Tibet's exiled spiritual leader, the Dalai Lama.
Sarkozy presided over some $30 billion in business deals, including promises to buy 160 planes from Airbus and a deal between China and French state-owned nuclear energy group Areva for two nuclear reactors and more than a decade of fuel.
Sarkozy toured Beijing's preparations for the 2008 Olympics before heading to Shanghai for a whirlwind visit and then home.
He will return to a country reeling from a second night of clashes between youths and police in a poor Paris suburb and recovering from a crippling railway strike over his plan to end a system of special pension rights.
Sarkozy appealed from China for calm in the Paris suburbs, which were hit by three weeks of rioting in 2005.
(Additional reporting by Lindsay Beck; editing by Nick Macfie and Sanjeev Miglani)