China wary on international climate goals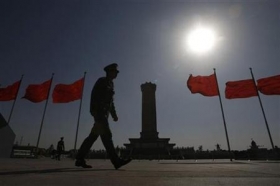 By Chris Buckley and Gerard Wynn
BEIJING (Reuters) - Beijing is reluctant to set itself international targets to fight climate change without financial assistance from industrialized countries, a senior climate change official, Gao Guangsheng, said on Thursday.
Gao was speaking days ahead of talks in Bali, Indonesia, expected to launch two years of formal negotiations to extend or replace the Kyoto Protocol on global warming after 2012.
He was scathing about industrialized countries' limited efforts to help developing nations cut greenhouse gas emissions, despite commitments under the U.N.'s convention on climate change to share clean energy technologies.
That had made it more difficult for China to curb emissions of carbon dioxide, the main greenhouse gas blamed for contributing to climate change, he said.
"Only when I know what technology I have can I calculate how much I can reduce emissions; only when I have funding assurances," said Gao, director general of climate change at the National Development and Reform Commission.
"To reduce emissions, technology is a crucial issue. But here for various reasons the developed countries haven't shown much commitment and there basically hasn't been any progress."
China has set itself ambitious domestic targets to increase energy efficiency and replace high carbon-emitting coal with renewable energy sources like wind and hydropower -- although it failed to meet its efficiency target in 2006.
"The goals can often encounter upsets. But international commitments can't be messed about with. China always only makes international commitments that it can live up to. Not just empty cannon blasts. We do more and say less."
Gao cited the example of previous agreements between China and the United States to transfer clean power-generation technology that he said had been blocked by Congress.
He also recounted a conversation with the Danish environment minister, whom he had asked for assistance to transfer advanced wind power technology to China, but had been told it was a matter for companies, not government.
Denmark is home to the world's biggest maker of wind turbines, Vestas and the country is projected to source 25 percent of its electricity from wind power next year.
"If that's always the attitude, then how can we have international cooperation?" said Gao, speaking to a small number of reporters.
"Developed countries should abide by the demands of the (U.N.) treaty and offer favorable terms, or give for free, the environmentally friendly technology that developing countries desperately need."
China is under increasing pressure to act on climate change because of ballooning carbon emissions, especially from its coal-burning power plants and from its cement industry.
When pressed Gao said he could not rule out the possibility
China had overtaken the United States as the world's top carbon emitter, or would do so shortly, because Beijing had insufficient data to prove that one way or the other.
On the Bali talks he affirmed China supported a two-year timeframe to find a successor deal to Kyoto.
(Additional reporting by Emma Graham-Harrison; Editing by Jerry Norton)