Cleaner, Greener U: Students Drive the Campus Climate Movement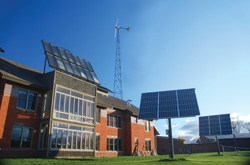 By Brita Belli

Climate change is our generation's civil rights movement," says Brianna Cayo Cotter, communications director for the Energy Action Coalition, swilling from a tall cup of coffee. Cotter talked fast and raked her fingers through her thick, wavy hair, staring intently, as though she'd been on a steady diet of nothing but caffeine for the last few days. This was PowerShift 2007, held at the University of Maryland, the largest gathering of college students ever assembled to fight climate change, a weekend of non-stop workshops and speakers and rallies brought together by Energy Action staff. The previous week, the group's server had crashed as college students across the nation logged on to register. On Halloween night, they hit 5,500 registrants, sending up a cheer in Energy Action offices. Cotter was literally buzzing with enthusiasm. "We're at a crucial moment in history," she said. "Climate change is an issue that's already impacting us, from the destruction of the Appalachian Mountains to the wildfires in California. We get that the resource wars and super storms are connected. And we get that the steps taken today will end up being the future for tomorrow."
Shifting the Power
Surrounded by foldout tables topped with organic T-shirts, cloth bags, environmental magazines and activist pamphlets, the Energy Action crew had created its own environmental how-to Mecca. Students roamed the halls clutching containers of coffee and complementary tote bags, migrating to one of hundreds of workshops that happened simultaneously and around the clock across the UM campus, on everything from radical lobbying to art and activism to communicating a winning message and running an energy-efficiency campaign in your house of worship.
The workshops were followed by the largest youth lobbying effort ever assembled in Washington to stop global warming. In addition to more than 300 individual meetings with Congressional leaders, youth climate spokesperson Billy Parish, cofounder of the Energy Action Coalition, was one of several environmentalists who testified before the House Select Committee on Energy Independence and Global Warming. The hearing had some 2,000 people in attendance. It was followed by a boisterous rally outside on the lawn.
"We're saying to these leaders, 'You've got a year to show action, to give us a climate bill,'" says Sean Miller, an Energy Action Coalition representative and director of education for Earth Day Network. "We're targeting members of Congress who don't meet our needs."
By all accounts, the youth voices were heard over that long weekend, strategically timed a year before the 2008 Presidential elections. Congressman Edward Markey (D-MA), chair of the House Select Committee, and Speaker of the House Nancy Pelosi (D-CA) gave the students a platform and spoke before the Saturday night conference. Congresswoman Lucille Roybal-Allard (C-CA) spent the better part of an hour talking about pollution issues with Los Angeles teacher Andrew Stephens and his "Mean Green Team" high school students, many of whom had just flown in on the first plane rides of their lives.
And the momentum, fanned in large part by college students, is carrying global warming from the sleeper issue it was in the 2006 midterm elections to a defining campaign talking point. In May, energy independence and global warming trailed only health care as America's most important domestic challenge, according to Democratic pollster Stan Greenberg. And by last October, the only issue appearing more than global warming in campaign ads was the Iraq war.
Back in Maryland, the Public Interest Research Group (PIRG) New Voters Project set up shop in a Powershift lobby, with life-sized cardboard cutouts of the candidates so young voters could take digital pictures while holding aloft word balloons reading, "What's Your Plan?" in reference to global warming solutions.
"This is how democracy works," says New Voters Project Director Ellynne Bannon, who says PIRG advocates a non-partisan, peer-to-peer method of civic engagement. In 2004, a year after the program's launch, the group registered more than a half million new voters, and those numbers have grown with each election year. "We hope it makes candidates realize it's worth it to go to campuses and not just appear on [online social networking site] Facebook," Bannon says.
Campus sustainability initiatives—from local food in cafeterias (see sidebar), to renewable energy courses, to wind and solar installations—are multiplying fast. Schools are polishing their green credentials in an effort to outshine other schools, and they are swapping success stories online and in person.
At press time, 458 school presidents had signed the American College and University President's Climate Commitment, which requires schools to have a plan to go carbon neutral within two years of signing. Nina Rizzo, the California Freedom from Oil campus organizer for Global Exchange, is encouraged by the progress students are making, and the university system in California is a leader in environmental initiatives from LEED-certified buildings to bicycle lanes, but she has yet to see "radical action" that parallels the civil rights struggles of the 1960s. "The movement is potent, but we're not there yet," Rizzo says. "I don't think people are angry enough yet."
Michael M'Gonigle, author of Planet U, a professor of environmental law and policy at the University of Victoria and a co-founder of Greenpeace International, agrees that the incremental changes he's seeing on campuses have yet to resemble the sustained force of 1960s radicalism.
"Certainly in the states, it's not in the public consciousness that there is this movement," says M'Gonigle. "But the anxiety about climate change is really palpable—students feel it. And there's an overarching social anxiety, something we have to act on. It's not like stopping the deployment of anti-ballistic missiles in Europe. It's local. We can do something right here and right now at this institution."
Remaking a Campus
Outside the stately brick UM building that served as the conference's main hub, three students from Florida Atlantic University relaxed on the grass, passing time between workshops. As students at a beachfront school, they see the realities of global warming outside their dorm windows in the eroding sand and freakish storms. Nicole Henken, a freshman, says, "Beaches around us are having to ship in sand because it's so washed out from rain and storm activity."
"They dredge it from the ocean and put it on the beach," adds Veronica LaFranchise, another freshman, who hopes to major in marine biology and work on removing trash from the nation's waterways.
The three say that although Al Gore's documentary, An Inconvenient Truth, didn't inspire them to fight climate change, it reinforced their understanding of an environment gone wrong. "Al Gore made it accessible to people," says sophomore Jen Cohen, who showed the film to her less environmentally aware mom. "You're not a crazy hippie if you believe in global warming."
Students are beginning to feel their collective power, and they are pushing for immediate changes in the way their colleges and universities operate. They see their campuses as perfect microcosms for society at large, places where they can change everything from basic policies to education directions to how energy is purchased and recycling handled. They can then take these lessons out into the world at large.
"All the power dynamics are there on a campus," says 26-year-old Matt Stern, campus organizer with the Chesapeake Climate Action Network. "The constituencies and organizing potential are concentrated. It's a great learning ground for students."
Stern's group deals with a regional coalition of 10 schools in Virginia and Maryland, focusing on specific campaigns. Last year, they rallied hundreds of students to pressure administrators at Johns Hopkins University to sign the president's climate commitment. While many larger schools are shying away from the agreement and opting to write their own policies, says Stern, the formal commitment has teeth. "We focus on institutional policies," he says, "for buses to run on biodiesel or for zero-percent carbon emissions."
Judy Walton, acting executive director of the Association for the Advancement of Sustainability in Highter Education (AASHE), says student activism has been critical in getting schools to look at their greenhouse gas emissions and find solutions. "Student action is one of the driving forces on many campuses," Walton says. "There are a few cases where the administration took the lead, but that's rare."
Beyond the Campus Confines
"I was a student at Penn State," says Maura Cowley, now the national campaign director for the Sierra Student Coalition. "And when [the college] bought five percent wind energy, we changed the market price in Pennsylvania....We changed the price of wind power and changed the whole dynamic and evolution of the state's energy."
According to the Environmental Protection Agency (EPA) "Green Power Partnership" rankings, Penn State now ranks third among schools for green power purchasing, with 20 percent of its total electricity use coming from wind power. Its fellow state school, the University of Pennsylvania, has seen the light on green energy, too, and is now second, at 29 percent. New York University is number one, with an incredible 100 percent of its electricity use coming from wind power.
"It's surprising how important colleges and universities are as regional players," says M'Gonigle. "Any town of 50,000 or more has a college. Take out the college and it's like cutting off a limb. They are big corporations with economic clout."
When students decide to get active on regional issues, they have the power to force attention on environmental issues, and even change the course of local policy. A coalition of students in Virginia has teamed up to fight a new Dominion "clean coal" plant in Wise County, Virginia. The plant is slated for construction on a former surface coal mine site, and the students are arguing for clean energy instead. "No new coal" has become a battle cry among college greens, particularly those in the Southeast confronted with the devastation of mountaintop removal mining, which leads to polluted water, filthy air and land stripped of life.
"We are working together with many other individuals and grassroots organizations to send a message to the energy corporations that we don't want any new coal plants," says Ryan Hasty, a junior at Emory and Henry College in southwestern Virginia, who became president of The Greens on his campus last year. "It's an old technology, it's very dirty and it isn't worth sacrificing the health and well-being of those who live near the mine sites and the power plants. Not to mention the destruction of some of the cleanest and most biodiverse waterways in the world."
While some of the students involved in the anti-coal campaign live in Virginia, they hadn't confronted the realities of mountaintop removal mining: the eerie, denuded landscape interrupted only by polluted headwater streams. "Before I got to James Madison University," says sophomore Vicente Rosa, "I didn't know much about environmental issues." Once there, he joined the Earth Club, which together with such local groups as Appalachian Voices, is educating people about coal's effects and working to stop new plants before they're built. "Coal is one of the top polluters," says Rosa. "We're telling Dominion we want clean energy."
As research sites, colleges bring innovation and expertise to those expanding clean technologies. Ten Texas universities joined forces with government agencies and corporate partners as the Lone Star Wind Alliance, which last June won a $2 million Department of Energy grant for a large-scale wind-turbine and blade-testing facility. Oil giant BP donated 22 acres just north of Corpus Christi for the effort. Texas beat California to become the leading national producer of wind power in 2006, and researchers at the University of Texas in Austin are developing ways to overcome the variability and intermittent nature of wind power to make it truly competitive with fossil fuels.
Arizona State University's clean cities vision comes from the top down. ASU President Michael Crow came to the campus from Columbia University committed to making the university a leader in sustainability. Five years later, the university's Global Institute for Sustainability pushes students and faculty to find solutions to resource depletion in water-deprived, population-dense cities like Phoenix, which is a stand-in for many cities worldwide coping with desertification (a threat to some 20 percent of the world's population). "We see campuses as living labs," says Bonny Bentzin of ASU's Global Institute of Sustainability. "In Phoenix, we're on the frontline as one the fastest-growing communities in the U.S. We have to figure out how not only how to have a sustainable water supply, but how to manage air quality."
Book Learning
There are changes underway inside the classrooms, too. Duke University has a new Energy and Environment track (combining business and environmental management) that prepares students to remake their worlds in concrete ways. Erika Lovelace of Duke's Office of Enrollment says, "The degree prepares you to come up with sustainable ideas to assist local communities."
At the University of Colorado in Boulder, 22-year-old environmental studies major Paul Chase says working environmental education into the broader curriculum is a major campus goal. He's the only student undergrad represented on the Chancellor's Committee on Energy, Environment and Sustainability. Making the sprawling university the first of its size to go climate neutral (tentatively scheduled for 2060) is only one of many of the committee's goals.
Chase talks about changing the core curriculum at Boulder, calling it "a huge undertaking, which involves expanding environmental education into all aspects of the university and to every student."
For some students, reforming the course offerings isn't splashy enough. Whether launching a recycling program or passing out petitions for clean energy purchases, they want to see changes made now. "It's a challenge to balance long-term goals with the students that want to see immediate returns," says Bentzin.
Students are looking for the kind of impact made by the University of California's solar energy commitment in 2003, which involved installing 10 megawatts of renewable energy (equivalent to power used by 5,000 homes) across UC's 10 campuses. The schools also pledged to purchase 20 percent of their electricity from clean energy sources by 2017 (enough to power 26,000 homes). UC Santa Cruz is going far beyond that, pledging to purchase 100 percent renewable energy for its campus.
Such strides helped motivate students at other colleges, such as the University of Colorado in Denver, which was inspired to build the fifth-largest campus solar project. Corey Nadler, a campus organizer with the Colorado Public Interest Research Group (CoPIRG), spoke before a rapt audience in one Powershift workshop, describing his school's solar victory. The activists gathered 2,000 student signatures, gained administrative support, and then, says the curly-haired spokesperson, "The public utilities commission threatened to veto the project." So students got the media involved and won their case. It was a huge effort just to offset three and half percent of the school's energy output to solar. But the students had made visible strides, with rooftop solar panels as proof of their victory.
Greener than U.
This is a race not only against the inevitable march of climate change, but against other colleges and universities eager to tout their green accomplishments. A school without a sustainability office seems hopelessly outdated, a passive part of the old economy instead of a vital part of the new. Signing climate commitments, university presidents are bestowed an immediate badge of honor, one that shows they know the importance of their place in the new world.
"We're really pushing to become a leader, a model, of how a large university becomes carbon neutral," says Chase at the University of Colorado, Boulder. "It's vital to have that competition. And it's a great thing when you're competing for the right reasons, to be the cleanest, not the richest, school."
Some schools have already attained "green cred" through their single-minded focus on sustainability, an easier feat at a small, liberal arts school. Middlebury College in Vermont offers the complete package, from its natural landscape design to its fully composted dining hall waste to its "yellow bike" borrowing system for on-campus commutes. The school's $11 million biomass facility is scheduled to open in late fall, with the capacity to burn enough wood chips to displace the use of $1 million gallons of fuel oil, cutting the school's fuel needs in half. And it's a gasification system, turning wood to gas that's then burned, reducing the amount of sulphur oxide and nitrous oxide in the emissions. The school's existing power plant is already a cogeneration system, heating the campus with steam, but the biomass facility will take Middlebury's sustainability commitment to the next level. Jack Byrne, Middlebury's campus sustainability coordinator, says the biomass facility is one part of the big picture vision at the college.
"More than likely, wood and biomass will become an increasingly sought-after source of energy," says Byrne. In years to come, Middlebury may be able to bypass wood altogether in favor of growing its own willow shrubs. School officials traveled to the State University of New York's School of Forestry to learn about how willow (a hardy perennial that requires minimal fertilizer and pesticides to grow) can be used as a fuel source. The school has a 10-acre test plot underway.
All of this is helping Middlebury reach one of the most ambitious goals any college has set: carbon neutrality by 2016. "It's not an easy goal," Byrne admits, but students have been relentless on the issue. "The general approach is renewables, conservation and efficiency," Byrne says, "and, as a last resort, carbon offsets."
Minnesota's Carleton College is another small liberal arts school with green might, installing its own wind turbine on campus, engaging in "dorm wars" to encourage low energy use, and committing to green building retrofits and composting all food waste. The college's 1.65-megawatt wind turbine is the first utility-grade installation by a college. Mathias Bell, an environmental associate, says the turbine has become a powerful force on campus. "It's a looming presence," Bell says, "and it's an incredible educational tool."
A similarly focused school, Maine's College of the Atlantic, has achieved near perfection in its student-led green pursuits, eliminating or offsetting all its greenhouse gas emissions, supporting on-campus watershed preservation and following the highest standards of green building in all new campus structures.
Really the Best?
Not surprisingly, the media is surfing the wave with lists of "10 Coolest Schools" (Sierra Magazine) or "15 Green Colleges and Universities" (Grist) and "50 Green Colleges" (Kiwi Magazine). Most attempt to rank schools based on a nebulous collection of green attributes, including food served, classes taught, buildings built and transportation supported. Rather than pointing out the positive heights colleges and universities are reaching, these lists tend to create a furor among schools that were left out.
AASHE has developed the Sustainability, Tracking, Assessment and Rating System (STARS) to serve as a guideline for measuring schools based on a wide range of green credentials. "People are angry about those lists," says Walton, "They're often meaningless and there's a lack of transparency."
The STARS assessment will function like the LEED rating system for buildings, relying on schools to submit documentation proving their "green" merits. That information will be made available to the public online. Initially, STARS will not be third-party verified.
For the past two years, the Sustainable Endowments Institute has had a separate rating system, looking at the 200 public and private universities with the highest endowments, and giving them grades based on shareholder engagement and endowment transparency as well as on food and recycling, green building and other typical green benchmarks. While their statistics show that campus initiatives are growing, with nearly 45 percent of schools committed to fight climate change, endowments to sustainable causes have not kept pace.
But it is not only in making physical retrofits, purchasing wind power and adding bike lanes that these schools do the essential work of curing the nation's fossil-fuel dependency. It is in educating students about the importance of creating and supporting a new green economy and turning out leaders. In that respect, the campus sustainability movement has been a resounding success.
"We really see our futures at stake," says Stern. "We have to nail this problem. Everything else is negated."