Greenhouse gases hit record levels last year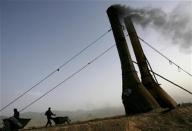 GENEVA (Reuters) - Gases blamed for global warming reached record levels in the atmosphere last year, the United Nations weather agency said on Tuesday.
Concentrations of carbon dioxide (CO2) and nitrous oxide (N2O) touched new highs after more steady rises in 2007, and methane had its largest annual increase in a decade, the World Meteorological Organization said.
"The major greenhouse gases -- CO2, methane and N2O -- have all reached new highs in 2007. Two of them, CO2 and N20, are increasing steadily and there is no sign of leveling off of those two gases," WMO expert Geir Braathen told a news briefing. He said it was too early to tell if methane would keep rising.
U.N. scientists have warned that high atmospheric levels of radiation-trapping greenhouse gases -- emitted by factories, cars, and in agriculture -- will lead to rising sea levels, big storms, and more heatwaves and droughts.
The current climate pact, the Kyoto Protocol, expires in 2012 and governments are scrambling to agree a new treaty by the end of next year.
Observers hope a new pact will include the United States, which did not ratify the original accord, and will commit developing nations like China and India to emissions targets.
The WMO report found that levels of ozone-depleting chlorofluorocarbons have continued their slow decrease, a result of emission cuts under the 1987 Montreal Protocol which aims to protect the protective layer that blocks harmful solar rays.
"The Montreal Protocol, through the phase-out of ozone-depleting substances, has actually had a positive effect also on climate," Braathen said.
(For the full WMO report see www.wmo.int/pages/prog/arep/gaw/gaw_home_en.html).
(Reporting by Stephanie Nebehay, editing by Mark Trevelyan)