U.N. climate talks open, deal "within reach"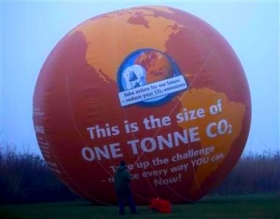 The biggest climate meeting in history, with 15,000 participants from 192 nations, opened in Copenhagen on Monday with hosts Denmark saying an unmissable opportunity to protect the planet was "within reach."

"The world is depositing hope with you for a short while in the history of mankind," Danish Prime Minister Lars Lokke Rasmussen told delegates at the opening ceremony of the talks, seeking to agree the first U.N. climate pact in 12 years.
He said that 110 world leaders, including U.S. President Barack Obama, would attend a summit at the end of the December 7-18 meeting to agree deep cuts in greenhouse gas emissions for the rich by 2020 and raise billions of dollars for the poor in aid.
"A deal is within our reach," Rasmussen said.
The presence of so many world leaders "reflects an unprecedented mobilization of political determination to combat climate change. It represents a huge opportunity. An opportunity the world cannot afford to miss," Rasmussen said.
"The ultimate responsibility rests with the citizens of the world, who will ultimately bear the fatal consequences, if we fail to act," he said.
But the summit will have to overcome deep distrust between rich and poor nations about sharing the cost of emissions cuts.
Article continues: http://www.reuters.com/article/idUSTRE5B517O20091207