The Quiet Clean Mining Revolution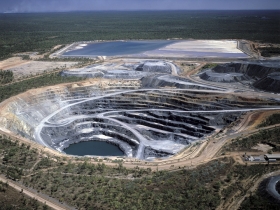 Few industries have got the black eye, literally and metaphorically, of mining.
After centuries of environmental effects ranging from toxic emissions to unsightly tailings ponds, acid mine drainage, massive energy consumption and other impacts, mining is slowly cleaning up its act.
Why? Mostly because new clean technologies are increasing industrial efficiencies. They're lowering mining companies' power needs. And they're even helping reduce water requirements, and/or remediating the produced water and mines of years past that are now leaching toxins. And that's translating into cost savings for mining companies, which are being held increasingly accountable for their environmental impacts and are looking for ways to minimize the expenses of both the production phase of their operations, and reclamation (i.e. the mandated end-of-life cleanup expenses associated with mining in many jurisdictions, now).
In other words, now that it's starting to be less expensive on net for mining companies to be clean, they're starting to move in that direction.
Here's a look at some selected companies at the forefront of new, clean processes in mining today.
New production
Mining project developer American Manganese is preparing to produce electrolytic manganese, used in everything from steel to batteries, from low-grade ore in Arizona.
And it plans to do so at vastly lower costs than the Chinese companies that currently dominate its industry.
How is the company hoping to do so? A lower-power production process intended to use only about six percent of the energy required by the high temperature roasting of conventional electrolytic manganese production. It also plans to produce power onsite from heat exchangers harvesting energy from the production of sulfur dioxide—performed by burning elemental sulfur. And it intends to reduce its water requirements by using precipitation to remove contaminants, with closed-loop water techniques that also involve nanofiltration.
The company also claims its tailings (the output of the process) will be solid and inert, benign enough to be placed right back into the ground with no further processing. No open pool tailing ponds.
Article continues: http://blog.cleantechies.com/2012/02/21/the-quiet-clean-mining-revolution/
Open Mine image via Shutterstock