Two Affiliates to sever ties with paper company linked to endangered forests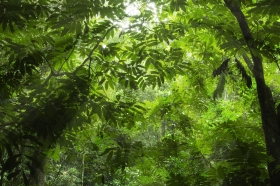 Two affiliates of Asia Pulp & Paper (APP) have announced they are severing at least some ties with the beleaguered paper giant, according to the Northern Virginia Daily and Greenpeace, an environmental group whose recent undercover investigation found ramin, a protected species, at APP's pulp mill in Sumatra.
Oasis Brands, a firm that handles sales, marketing, and contracting for Virginia-based Mercury Paper Inc., said it will "dissolve" ties to APP "in response to company goals and customer demand for sustainability assurance". Mercury Paper had been under fire for sourcing fiber from APP, which environmentalists have shown continues to produce pulp and paper from endangered natural forests in Indonesia. APP has been the only supplier for Mercury Paper and California-based Solaris Paper Inc.
Oasis says it will now seek paper certified under the Forest Stewardship Council (FSC) for some its products. APP saw its FSC-certification revoked in 2007 following complaints from green groups and auditors over its forest management practices.
"Our ultimate goal is to meet all our branded retail product needs with FSC-certified paper," said Philip Rundle, CEO of Oasis Brands, in a statement.
Rundle added that Oasis would now rely on U.S. sources for its fiber, which he implied would not increase costs for customers.
Rainforest image via Shutterstock.
Article continues: http://news.mongabay.com/2012/0317-app_usa_troubles.html#ixzz1pTj01sDn