Average Temperatures in West Antarctica Show Marked Rise Over 54 Years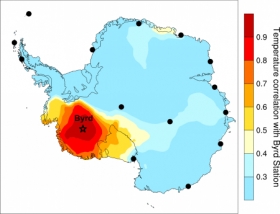 Global average temperatures are rising in most places, but the rise is not uniform. In western Antarctica, temperatures have risen significantly over an extended period. In a finding that raises further concerns about the future contribution of Antarctica to sea level rise, a new study by the University of Colorado University Corporation for Atmospheric Research in Boulder finds that the western part of the continent's ice sheet is experiencing nearly twice as much warming as previously thought.
The temperature record from Byrd Station, a scientific outpost in the center of the West Antarctic Ice Sheet (WAIS), demonstrates a marked increase of 4.3 degrees Fahrenheit (2.4 degrees Celsius) in average annual temperature since 1958. The rate of increase is three times faster than the average temperature rise around the globe for the same period.

The study will be published Sunday in the journal Nature Geoscience. It was conducted by scientists at Ohio State University (OSU), the National Center for Atmospheric Research (NCAR), and the University of Wisconsin-Madison, with funding coming from the National Science Foundation, which is NCAR's sponsor.
"Our results indicate that temperature increases during the past half century have been almost twice what we previously thought, placing West Antarctica among the fastest warming regions on Earth," says NCAR scientist Andrew Monaghan, a co-author. "A growing body of research shows that the West Antarctic Ice Sheet is changing at an alarming rate, with pressure coming from both a warming ocean and a warming atmosphere."
This study reveals warming trends during the summer months of the Southern Hemisphere (December through February), notes co-author David Bromwich, professor of geography at Ohio State University and senior research scientist at the Byrd Polar Research Center.
"Our record suggests that continued summer warming in West Antarctica could upset the surface mass balance of the ice sheet, so that the region could make an even bigger contribution to sea level rise than it already does," Bromwich says.  "Even without generating significant mass loss directly, surface melting on the WAIS could contribute to sea level indirectly by weakening the West Antarctic ice shelves that restrain the region's natural ice flow into the ocean."
The analysis, shown on the map, focuses on the temperature record from Byrd Station (indicated by a star), which provides the only long-term temperature observations in the region. Other permanent research stations with long-term temperature records (indicated by black circles) are scattered around the continent. On this map, the color intensity indicates the extent of warming around Antarctica. (Image by Julien Nicolas, courtesy of Ohio State University.)
Read more at UCAR.