Arctic Snow Clears the Air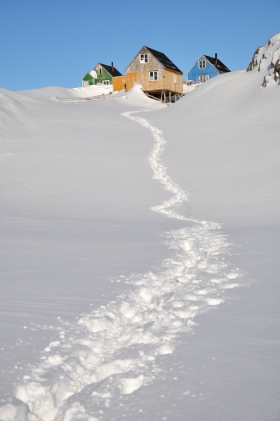 National Science Foundation-funded researchers at Purdue University have discovered that sunlit snow is the major source of atmospheric bromine in the Arctic, the key to unique chemical reactions that purge pollutants and destroy ozone.
The new research also indicates that the surface snowpack above Arctic sea ice plays a previously unappreciated role in the bromine cycle and that loss of sea ice, which been occurring at an increasingly rapid pace in recent years, could have extremely disruptive effects in the balance of atmospheric chemistry in high latitudes.
The team's findings suggest the rapidly changing Arctic climate--where surface temperatures are rising three times faster than the global average--could dramatically change its atmospheric chemistry, said Paul Shepson, an NSF-funded researcher who led the research team. The experiments were conducted by Kerri Pratt, a postdoctoral researcher funded by the Division of Polar Programs in NSF's Geosciences Directorate.
"We are racing to understand exactly what happens in the Arctic and how it affects the planet because it is a delicate balance when it comes to an atmosphere that is hospitable to human life," said Shepson, who also is a founding member of the Purdue Climate Change Research Center. "The composition of the atmosphere determines air temperatures, weather patterns and is responsible for chemical reactions that clean the air of pollutants."
A paper detailing the results of the research, some of which was funded by NSF and some by the National Aeronautics and Space Administration, was recently published online at Nature Geoscience.
Ozone in the lower atmosphere behaves differently from the stratospheric ozone involved in the planet's protective ozone layer. This lower atmosphere ozone is a greenhouse gas that is toxic to humans and plants, but it also is an essential cleaning agent of the atmosphere.
Interactions between sunlight, ozone and water vapor create an "oxidizing agent" that scrubs the atmosphere of most of the pollutants human activity releases into it, Shepson said.
Temperatures at the poles are too cold for the existence of much water vapor and in the Arctic this cleaning process appears instead to rely on reactions on frozen surfaces involving molecular bromine, a halogen gas derived from sea salt.
This gaseous bromine reacts with and destroys atmospheric ozone. This aspect of the bromine chemistry works so efficiently in the Arctic that ozone is often entirely depleted from the atmosphere above sea ice in the spring, Shepson noted.
Path to houses in the Kulusuk village, Greenland, via Shutterstock.
Read more at EurekAlert.