President Obama Signs Executive Order, Addresses Preparedness for Climate Change Impacts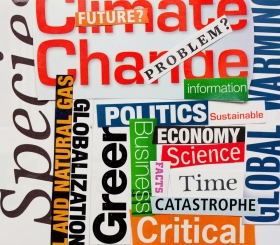 On Friday, President Obama established a Task Force on Climate Preparedness and Resilience to advise the Administration on how the Federal Government can respond to the needs of communities nationwide that are dealing with the impacts of climate change.
The Executive Order directs federal agencies to:
  - Modernize Federal programs to support climate-resilient investments: Agencies will examine their policies and programs and find ways to make it easier for cities and towns to build smarter and stronger. Agencies will identify and remove any barriers to resilience-focused actions and investments– for example, policies that encourage communities to rebuild to past standards after disasters instead of to stronger standards – including through agency grants, technical assistance, and other programs in sectors from transportation and water management to conservation and disaster relief.
- Manage lands and waters for climate preparedness and resilience: America's natural resources are critical to our Nation's economy, health and quality of life. The E.O. directs agencies to identify changes that must be made to land- and water-related policies, programs, and regulations to strengthen the climate resilience of our watersheds, natural resources, and ecosystems, and the communities and economies that depend on them. Federal agencies will also evaluate how to better promote natural storm barriers such as dunes and wetlands, as well as how to protect the carbon sequestration benefits of forests and lands to help reduce the carbon pollution that causes climate change.
- Provide information, data and tools for climate change preparedness and resilience: Scientific data and insights are essential to help communities and businesses better understand and manage the risks associated with extreme weather and other impacts of climate change. The E.O. instructs Federal agencies to work together and with information users to develop new climate preparedness tools and information that state, local, and private-sector leaders need to make smart decisions. In keeping with the President's Open Data initiative, agencies will also make extensive Federal climate data accessible to the public through an easy-to-use online portal.
- Plan for climate change related risk: Recognizing the threat that climate change poses to Federal facilities, operations and programs, the E.O. builds on the first-ever set of Federal agency adaptation plans released earlier this year and directs Federal agencies to develop and implement strategies to evaluate and address their most significant climate change related risks.
To implement these actions, the E.O. establishes an interagency Council on Climate Preparedness and Resilience, chaired by the White House and composed of more than 25 agencies. The Task Force will use their first-hand experiences in building climate preparedness and resilience in their communities to inform their recommendations to the Administration.
Read more at The White House.
Climate words image via Shutterstock.