Grocery giant commits to zero-deforestation policy for palm oil sourcing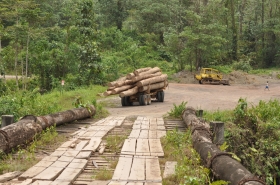 Safeway has become the latest company to establish a policy that excludes deforestation-linked palm oil from its products.
Safeway Inc. (NYSE: SWY), the second biggest U.S. grocery chain, made the commitment in response to a shareholder proposal by the New York State Common Retirement Fund. In exchange for the fund withdrawing its sustainable palm oil shareholder proposal, Safeway will ask its suppliers to implement social and environmental criteria that ensure the palm oil it uses in branded products is "free of deforestation, free of expansion on carbon–rich peat lands, not developed or expanded on illegal or customary use lands without the free, prior and informed consent of local communities and free of human rights violations including forced and child labor, human trafficking and poor working conditions," according to a statement from New York State Comptroller Thomas P. DiNapoli, who has led the shareholder activist campaign.
"Safeway is sending a strong message to its suppliers that safeguarding the environment is a business priority," DiNapoli said in a statement. "Shoppers don't see where the palm oil used in hundreds of products comes from, but often it's harvested in ways that destroy rainforests and leads to climate change. Safeway's new policy protects the company and its shareholders from reputational harm associated with environmental destruction."
The policy comes just a day after General Mills and Colgate-Palmolive announced deforestation-free policies for palm oil sourcing.
Safeway's move was immediately welcomed by the Rainforest Action Network, which has been campaigning to push American companies to demand greener palm oil.
"Safeway has made a bold move by publicly committing to eliminate Conflict Palm Oil from its supply chain, which will reduce the company's environmental and social impact," said Ginger Cassady, program director at Rainforest Action Network. "By directly engaging its suppliers to tackle the urgent issue of rainforest destruction, Safeway will ensure that its values are upheld throughout its palm oil supply chain and will prevent reputational risk for the company."
Palm oil is the largest driver of deforestation in Indonesia and Malaysia. In recent months however, two of the world's largest palm oil producers — Golden-Agri Resources and Wilmar — committed to zero deforestation policies throughout their supply chains. Environmental campaigners are now pushing retailers to adopt sourcing standards that would reward greener producers and shift the sector toward more responsible practices.
Read more from our affiliate, Mongabay.
Borneo deforestation image via Shutterstock.