Shell Begins Divestment From Canadian Oil Sands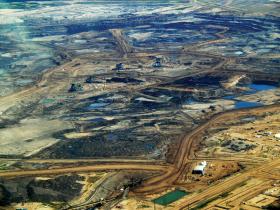 Last week Royal Dutch Shell agreed to sell most of its Athabasca oil sands investment to a Canadian exploration company for $8.5 billion. To many, this was anything but a surprise. In 2015, the world's second largest publicly-traded oil company put the brakes on its Pierre River development, suggesting it wasn't the right time for Shell to enter what was at the time the largest oil sands development in Canada.
But Shell's latest move signals a strategic shift for the company, which admits it's been under investor pressure to address climate change impacts.
Shell's chief executive, Ben van Beurden, said the decision to sell its share of the Athabasca development to Canadian Natural Resources comes after careful thought about the sustainability of the carbon fuel market and Shell's economic future.
"We have to acknowledge that oil demand will peak and it could already be in the next decade," van Beurden told the CERAWeek energy forum in Houston, Texas, last week. He said the public response to high-carbon emissions development is just as significant.
Read more at Triple Pundit
Photo credit: Howl Arts Collective via Wikimedia Commons