In new paper, scientists explain climate change using before/after photographic evidence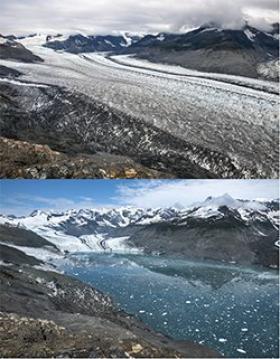 A group of scientists offers photographic proof of climate change using images of retreating glaciers in a new paper, "Savor the Cryosphere," appearing in GSA Today, a peer-reviewed publication of the Geological Society of America.
Along with Gregory Baker, adjunct professor of geology at the University of Kansas, co-authors include an Emmy Award-winning documentarian and a prominent environmental author. Aimed at a broad audience, their new paper already has been covered by news outlets like the Washington Post and the Associated Press.
"We have unretouched photographic evidence of glaciers melting all around the globe," said Baker, whose research career centers on geophysical imaging of Earth's subsurface and geoscience education. "That includes the ice sheets of Greenland and Antarctica — they're reduced in size. These aren't fancy computer models or satellite images where you'd have to make all kinds of corrections for the atmosphere. These are simply photos, some taken up to 100 years ago, and my co-authors went back and reacquired photos at many of these locations. So it's just straightforward proof of large-scale ice loss around the globe."
Accompanying the photos, the authors offer a concise overview of their own scholarly work on the retreat of glaciers, mostly stripped of the kind of jargon that can make such work impenetrable to the public-at-large.
Read more at University of Kansas
Photo: Retreat of the Columbia Glacier, Alaska, ~6.5 km between 2009 and 2015. Credit: James Balog and the Extreme Ice Survey.