Is Climate Change Affecting Northern California's Devastating Fires?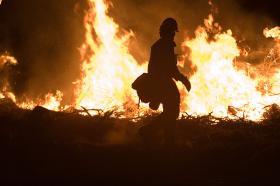 On Monday I woke to the terrifying smell of smoke. From my home south of San Francisco, I could see the entire Bay Area covered in a thick layer, obscuring the sun.
As of Wednesday morning, October 11, the Northern California fires, 50 to 70 miles north, have killed at least 21 people, destroyed more than 2,000 structures and sent over 25,000 residents fleeing from their homes. Around 560 people have been reported missing, although the hope is that they are unable to get in touch since almost all communication systems are down.
Seventeen large fires are raging primarily in Sonoma, Napa and Mendocino counties, with near zero containment. While the winds faded in strength on October 10, they were back in force on October 11, along with lower humidity levels.
What has caused these fires to be so devastating?
Read more at Care2
Photo credit: Andrea Booher via Wikimedia Commons