Rising Sea Levels Creating First Native American Climate Refugees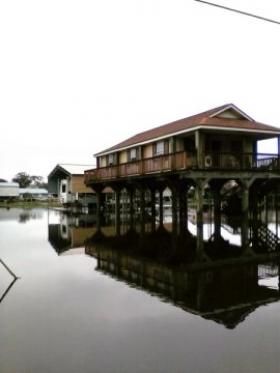 Rising sea levels and human activities are fast creating a "worst case scenario" for Native Americans of the Mississippi Delta who stand to lose not just their homes, but their irreplaceable heritage, to climate change.
"This took a long time to evolve," said Shirell Parfait-Dardar, Chief of the Grand Caillou/Dulac Band of Biloxi-Chitimacha-Choctaw Indians in Dulac, Louisiana. Canal construction, oil and gas extraction from the Gulf Coast, climate change and the routing of the Mississippi River and its land-building floods away from other delta areas have made the loss of land inevitable. "It's gotten so bad there is no way to repair it."
The landscape has gradually become more of a waterscape, resembling a "laced doily" of land when seen from the air. Sea-level rise and subsidence of the Mississippi Delta are causing large swaths of land to turn to marsh, then open water, leaving narrow strands of land barely above the muddy waters.
"It can be a bit deceiving. It's absolutely beautiful here," said Parfait-Dardar of what people see from the roads. "You can still see some trees in spots. But I'm on a sliver of land. Everything has changed."
Read more at Geological Society of America
Image: Some tribal members in Dulac have elevated their houses to deal with the all-too-frequent flooding. But the cost is often prohibitive, and such housing creates new problems for people with limited mobility. (Credit: Photo by Shirell Parfait-Dardar)