Time's ticking as 'Doomsday Clock' scientists meet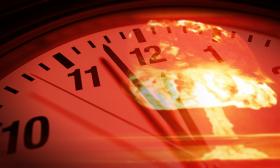 With tensions running high amidst the continued North Korean nuclear threat, members of the Bulletin of the Atomic Scientists are getting ready for their annual meeting in Chicago on November 6. The group of experts on nuclear policy, climate change, and other potential global hazards, is better known as the keeper of the "Doomsday Clock," the near-universally recognized minimalist representation of the likelihood of a man-made worldwide catastrophe—with midnight marking the terminus, the point of imminent disaster.
Back in January, the scientists moved the clock's minute hand 30 seconds closer— to 2 ½ minutes to midnight—to signal their concern over increasing threats of nuclear weapons and climate change, as well as President Trump's pledges to impede what the scientists saw as progress on both fronts.
The current setting is the clock's second closest to midnight since its introduction in 1947. (The closest the clock ever came to doomsday was in 1953 after the United States and the Soviet Union each conducted tests of the hydrogen bomb, which is far more powerful than any atomic bomb, triggering a 2-minutes-to-midnight setting.)
Unsurprisingly, given the urgency of the Bulletin's current clock setting, the scientists' agenda this year sounds like a laundry list of modern nightmares: from the state of nuclear weapons in the 21st century and existential cyberspace threats, to the safety of our biodefense and climate change.
Continue reading at University of Rochester.
Image via University of Rochester.