China Takes Steps to Restore Polluted River Basins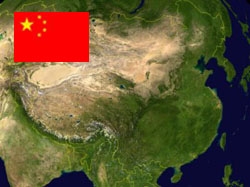 Early last month, China's top environmental authority, the State Environmental Protection Administration (SEPA), announced a decision to suspend the approval of all new industrial projects in 13 cities and industrial parks along four major rivers that are suffering from severe water pollution—the Hai, Huai, Yangtze, and Yellow. Pan Yue, vice president of SEPA, says the move was the agency's final "˜trump card' to stem the rampant violation of environmental laws and regulations by some local industries, given its limited authority. He says there is an urgent need to set up a cross-sectoral and cross-departmental mechanism to prevent and control pollution in China's major river basins.
SEPA is giving priority to integrated strategies to restore and protect China's rivers in the wake of several serious pollution incidents that threatened the safety of local drinking water—including most recently the massive algae outbreak in eastern China's Lake Tai. In May, the agency launched a 10-year pilot project to rehabilitate the Songhua River in the northeast, one of the country's most polluted waterways and the victim of a major chemical spill in November 2005. Measures include restricting the load of pollutants discharged into the river, raising the environmental bar for high-polluting industries, accelerating the shutdown of energy-intensive and high-polluting industrial facilities, conserving drinking water source areas, and constructing local wastewater treatment plants, according to Xinhua News.
China set up water resources management institutions for its seven major river systems as early as the 1950s. But only recently has the government begun to embrace the idea of "integrated river basin management," an approach that combines the conservation, management, and development of water and related resources across sectors within a river basin. The success of this approach typically requires long-term agreement and participation by all major stakeholders, the integration of polices across sectors, decision-making at various levels, and a transparent planning framework. In China, however, the lack of public participation, transparency, and cooperation across government departments all pose major obstacles.
According to the 2006 China environment report, as much as 26 percent of the water in the nation's seven major rivers is considered "V level" or worse, meaning that it is not even suitable for irrigation. China's water crisis has become a critical challenge for the government as well as for the entire society, says Pan. He believes that establishing an integrated river basin management mechanism that will coordinate administrative power, market forces, and public participation is the key to tackling China's current water woes.
China Watch is a joint initiative of the Worldwatch Institute and Beijing-based Global Environmental Institute (GEI) and is supported by the blue moon fund.