PBS Documentary: The Silence Of The Bees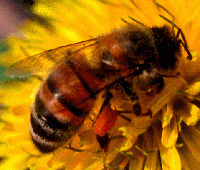 NEW YORK, - From crop fields to hi-tech labs, scientists and bee experts are investigating a rapidly unfolding ecological nightmare. The Silence of the Bees premieres on Sunday, October 28 at 8 p.m. eastern on PBS (check local listings). Academy Award-winning actor F. Murray Abraham narrates the series. It was shot on high definition cameras.
Honeybees are responsible for one of every three bites of food we eat. Each year, they pollinate $14 billion worth of crops and seeds in the U.S. alone. Their total decimation would be catastrophic from the local to the global level -- failed businesses, skyrocketing food prices, unsustainable labor costs, and depleted supplies of fruits, nuts, vegetables, plants, and more.
Silence of the Bees examines a number of scientific theories about the crisis. Is CCD caused by pesticides? Genetically modified crops? An AIDS- like virus? Is it even a new plague, or perhaps a recurring cycle? The search for CCD's cause takes viewers from the northeast United States to London, Paris, Provence, southern Spain, and Sichuan Province in China.
"This is like C.S.I. for agriculture -- it is painstaking, gumshoe detective work," says Dr. Ian Lipkin, a researcher at the country's premier human pathogen lab at Columbia University who was enlisted to help crack the mystery of CCD.
"This is the first in-depth documentary to cover this breaking story of ecological crisis," says Fred Kaufman, executive producer of NATURE. "People may be stunned to discover just how dire the consequences of honeybee colony collapse could be."
Less than a year after the alarm was sounded, scientists are close to identifying the cause of the die-offs that began last November -- but the honeybees may not be in the clear yet.
NATURE video podcasts, available on iTunes and at NATURE Online (http://www.pbs.org/nature), range from two to 10 minutes in length and feature behind-the-scenes interviews with filmmakers and producers, program excerpts and outtakes.
Silence of the Bees is a Production of Partisan Pictures and Thirteen/WNET New York. NATURE is produced by Thirteen/WNET New York for PBS. Fred Kaufman is executive producer; William Grant is executive-in- charge. Major corporate support for NATURE is provided by Canon U.S.A., Inc. and Toyota. Additional support is provided by the Corporation for Public Broadcasting and the nation's public television stations.
The series is closed-captioned for the hearing-impaired and distributed with Descriptive Video Service (DVS) for the sight-impaired.