Libya Creates World's Largest Sustainable Development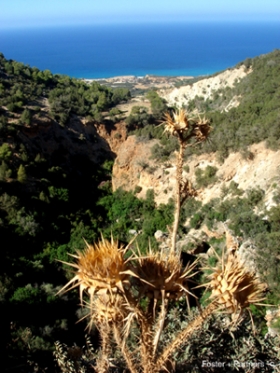 Libya - Libya today announced the creation of an unprecedented sustainable development on its beautiful northern Mediterranean coast. The massive project includes a world class sustainable resort and spa, extensive wind and solar on the coast and desert area, growth of biofuel crops, closed loop water systems, sustainable transportation, housing, and the creation of a huge national ecological parkland that includes protection of the Mediterranean ocean and incorporates Tripoli and other cities. The 5,500 square kilometer development, called Green Mountain, covers an area that is home to diverse animal and plant species and historic and archaeologically rich sites.
The project is the brainchild of one of the sons of Libyan leader, Muammar Gaddafi, Saif, a graduate of the London School of Economics, environmental progressive, and a possible successor to the throne.
The Green Mountain project is considered the world's first regional-scale conservation and development project responding to the challenges and opportunities for sustainable development. The Green Mountain region which covers some 5,500 sq kilometers. This area is described by the World Wildlife Fund as "˜one of the 10 last paradises of the Mediterranean'. The region is rich in prehistoric, Greek, Roman and Islamic antiquity and is one of the world's most important UNESCO World Heritage Sites.
"Our intention is to build a complete and sustainable social, cultural, economic and environmental system in which the needs of the present allow for the needs of future generation. Ladies and gentlemen, we share a determination to build for our children a future full of opportunity and fulfillment and a dedication to the protection of their heritage," Saif al-Islam said today. "We share a determination to build for our children a future full of opportunity and fulfillment and a dedication to the protection of their heritage." he said.
At an historic ceremony amongst the archaeological treasures of Cyrene in the Green Mountain region of Eastern Libya, Saif al-Islam Gadafi signed the Cyrene Declaration today, creating the sustainable region in front of an invited audience of journalists, VIP's and people's representatives from Libya and abroad.
Saif al-Islam also announced the establishment of the Green Mountain Conservation and Development Authority (GMCDA), administered under his direct authority with a coalition of support that includes environmentalists, economists, conservationists, architects and archaeologists.
The Green Mountain Conservation and Development Authority will establish:
A National Park - to protect an area of outstanding natural beauty and ecological diversity that encompasses a UNESCO World Heritage Site.
Sustainable Infrastructure - including renewable power generation, waste management and recycling facilities, closed-loop water systems and sustainable transport.
Economic Development - sustainable local economy and industry including sustainable fishing, organic agriculture and the manufacturing and servicing of new technologies.
Microbanking Services - to encourage and enable the local population to participate in the economic, cultural and sustainable regeneration of The Green Mountain.
Archaeological Conservation Areas - international collaboration to preserve and further excavate some of the world's greatest Greco-Roman remains.
Mixed Use Areas - for visitors including hotels, restaurants, museums, performing arts and sports facilities.
A world-class institution of higher learning dedicated to research, development and education in the field of sustainable development.
The development was designed by London based architects Foster + Partners. Founder Lord Norman Foster says: "This is one of the most beautiful and little known landscapes on Earth. We've been give a unique challenge: to establish a sustainable blueprint for future development which will be sensitive to the history of the Green Mountain and to its conservation."
This is a montage of photos of The Green Mountain area in northeast Libya. These photos were taken by Abdulfatah Maradi from Libya.