Survey: 65 Percent of Americans Oppose Mountaintop Removal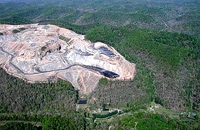 WASHINGTON, - Two out of three Americans (65 percent) oppose the Bush Administration's proposed rule "to ease environmental regulations to permit wider use of 'mountain top removal' coal mining in the U.S.," according to a national opinion survey.
Other key survey findings include the following:
-- The Bush Administration plan to permit wider MTR coal mining is favored by only about one out of four Americans (26 percent), including 14 percent of Democrats, 27 percent of Independents, and 42 percent of Republicans.
-- Almost nine out of 10 Americans (88 percent) - including 83 percent of Republicans, 82 percent of Independents and 94 percent of Democrats agree with the statement: "Before the United States puts in place new regulations to permit more coal mining, it should first make sure that coal mines and coal mining practices are safe for miners, nearby communities and the environment." The impact of recent mining deaths in Utah and elsewhere are evident in the findings, with 93 percent of women and 81 percent of men agreeing with the statement.
The survey was done by Opinion Research Corporation for the 700 Mountains watchdog group and nonprofit Civil Society Institute, a think tank.
The Civil Society Institute also launched today a new web site: http://www.700Mountains.org Web to encourage Americans to comment on the proposed Department of Interior/Office of Surface Mining rules and simultaneously express their views to their elected members of Congress. The public comment period on the controversial US rules that would permit
more MTR coal mining expires on October 23, 2007.
The new http://www.700Mountains.org site also features a seven-minute segment of an upcoming documentary film entitled "Burning the Future: Coal in America," which focuses on the impact of mountain top removal coal mining in West Virginia.
Civil Society Institute President and Founder Pam Solo said: "What we are faced with today is a threat about which no American should remain silent. With nearly 500 U.S. mountains estimated to already have been subjected to the ravages of mountain top removal coal mining, we are deeply concerned that another 500-700 mountains could be at risk under the wide-open approach contemplated under the proposed rule change. Federal officials in league with the coal industry suggest that there is nothing to fear from the rule. We believe that the much more likely scenario is that a coal mining industry unfettered from environmental restrictions would waste no time in seizing on mountain top removal with a new zeal that would lay waste to major sections of this country and the communities located within them."
"Those of us who live in coal country understand the terrible threat posed to scores and scores of communities that would be under assault if mountain top removal was permitted to kick into even higher gear than it is now" said Teri Blanton, member and former state chair of Kentuckians for the Commonwealth, a 4,000-member citizen's organization that speaks out on MTR coal mining and other issues of concern. "Many of us in Kentucky and West Virginia see this as the last chance to save our streams and open spaces. If this rule change goes through, the face of coal country will end up being scarred far worse than it is today."
Opinion Research Corporation Senior Researcher Graham Hueber said: "The lack of public support -- regardless of political views - for mountain top removal coal mining is one of the most striking results of this survey. Only about four in 10 self-identified Republicans support the proposed Bush Administration rule. The softness of this GOP support is evident in that two out of three Republicans -- 65 percent -- favor more energy conservation as a first step before more MTR coal mining is permitted. While Democrats may have a more predictable profile on this issue, it is worth nothing that Independents are about 50 percent less likely than Republicans to support the rule and far more likely to embrace increased energy conservation as a more palatable alternative."
KEY SURVEY FINDINGS
The ORC survey conducted for the Civil Society Institute found:
-- Women (21 percent) are less likely to support expanded MTR coal mining than are men (31 percent). Regional differences in opposition to the Bush Administration plan are relatively minor, including in the South (63 percent), where most MTR coal mining currently takes place.
-- The already low overall level of support for MTR coal mining drops even further when supporters are told that the proposed easing of environmental rules "could result in the leveling of 700 additional U.S. mountains over the next 10 years." When the one out of four Americans (26 percent) who initially support the MTR coal mining rule change learn of this fact, the percentage who switch their views approaches one half (45 percent), compared to just half who continue to support MTR.
-- More than seven out of 10 Americans (71 percent) would "oppose the use of 'mountain top removal' coal mining" for a mountain located within 50 miles of their home. Half of those surveyed would "strongly oppose" such mining near where they live. Support for such coal mining is present among fewer than two out of five Republicans (37 percent), 25 percent of Independents and 16 percent of Democrats.
-- More than three out of four Americans (77 percent) agree with the statement: "It would be better for the Bush Administration to concentrate first on energy conservation to reduce energy waste before resorting to more mountaintop removal coal mining." Over half of Americans (52 percent) "strongly agree" with the statement, with certain subgroups (e.g., 18-24 year olds at 62 percent) among the most intense supporters. This statement attracts strong bipartisan support:
65 percent of Republicans; 71 percent of Independents; and 87 percent of Democrats. Women (82 percent) are more likely than men (71 percent) to support the statement. The level of support for the statement in the coal-rich South (78 percent) is roughly the same as in the rest of the nation.
-- On an unaided basis, almost half (45 percent) of Americans say that they "have heard of a coal mining industry practice known as 'mountain top removal,' which involves the leveling of an entire mountain to get at coal and the filling in of nearby valleys and streams with the removed rock and soil from the mountain." Men (54 percent) were more likely than women (37 percent) to say that they know about MTR coal mining on an unaided basis.
Full survey findings are available online at http://www.700Mountains.org and http://www.CivilSocietyInstitute.org.
ABOUT THE IMPACT ESTIMATE
The Civil Society Institute recognizes that the scarcity of quality information about the impact of mountain top removal coal mining to date is a major problem that needs to be addressed. The estimate of nearly 500 mountains that have been so far impacted by is based on mapping - and permit-based researched conducted by Appalachian Voices (AV) for their National Memorial for Mountains Project, which to date has identified 470 such mountains. The rough projection by the Civil Society Institute of a potential impact felt during the next 10 years of 500-700 additional mountains is based on (1) the AV research about the toll of to date,(2) the conservative acreage and stream impacts in the environmental impact statement accompanying the new rules and (3) CSI's strong view that the coal mining industry is likely to exploit the new rule to fullest in the event that the rule is adopted. CSI acknowledges that this estimate is, by necessity, based on the limited amount of available data and subject to further research/verification. The Civil Society Institute is fully supportive of any and all efforts to improve the extent, quality and availability of impact data.
SURVEY METHODOLOGY
The ORC survey results reported for the Civil Society Institute are based on telephone interviews conducted among a sample of 1,001 adults (501 men and 500 women) age 18 and over, living in private households, in the continental United States. Interviewing was completed during the period of August 30- September 2, 2007. Completed interviews of the 1,001 adults were weighted by four variables: age, sex, geographic region, and race, to ensure reliable and accurate representation of the total adult population. The margin of error at a 95 percent confidence level is plus or minus 3 percentage points for the sample of 1,001 adults. Smaller sub-groups will have larger error margins.
ABOUT CSI
The nonprofit and nonpartisan Civil Society Institute is a Massachusetts-based think tank that serves as a catalyst for change by creating problem-solving interactions among people, and between communities, government and business that can help to improve society. Since 2003, CSI has conducted more than 15 major national and state-level surveys on energy and global warming issues.
EDITOR'S NOTE: A streaming audio replay of the news event will be available on the Web at http://www.700Mountains.org as of 6 p.m. EDT on September 13, 2007.