Cyclone Possible In Gulf, Atlantic Depression Forms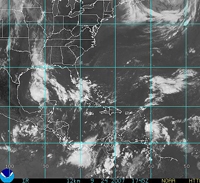 NEW YORK (Reuters) - A tropical cyclone could form in the southwestern Gulf of Mexico, while a couple of tropical depressions could form in the Atlantic over the next day or two, the U.S. National Hurricane Center said Monday.
The NHC will name the next three tropical storms Karen, Lorenzo and Melissa. A tropical storm has winds of 39 to 73 mph.
In the Gulf of Mexico, three out of four weather models predict the system will steer clear of the U.S. oil and gas producing and refining facilities in the northern Gulf and make landfall in central Mexico in a few days.
The other model, however, shows the storm will make landfall near the Texas-Mexico border.
The NHC said in a report Monday morning, "Upper-level winds are currently not favorable for significant development ... (the Gulf) system has some potential for tropical cyclone development as it drifts slowly and erratically over the next day or two."
The energy market watches for tropical storms in the Gulf because they can disrupt U.S. oil and natural gas production and refining there.
Commodities traders also track tropical storms because they can damage citrus crops in Florida and such crops as cotton along the Gulf Coast.
ATLANTIC SYSTEMS
In the Atlantic, two low-pressure systems associated with tropical waves could strengthen into tropical depressions over the next day of so, the NHC said.
One low-pressure system is located in the vicinity of the Windward Islands (Dominica, Martinique, Saint Lucia, Saint Vincent, the Grenadines and Grenada), while the other system is located about 730 miles west-southwest of the Cape Verde Islands.
The Windward system is moving northwestward at about 15 mph. It will likely reach the Leeward Islands (Virgin Islands, Anguilla, St Martin, Saba, Antigua, Barbuda, Saint Kitts, Nevis, Montserrat and Guadeloupe) later Monday and Tuesday as it marches northwest toward the Greater Antilles (Cuba, Jamaica, Hispaniola and Puerto Rico) over the next five days or so.
It is too soon to say whether the Windward system will reach the Gulf of Mexico, according to the weather models.
The Cape Verde system, meanwhile, is a large system moving west-northwest at about 15 mph.
Five of the major weather models show the Cape Verde system will still be in the Atlantic five days from now. Two models show the storm approaching the islands in the eastern Caribbean, while three models show the storm turning toward the north possibly away from North America.
It is also too soon to say whether the Cape Verde system will reach land in North America.