Strong typhoon targets Taiwan and China over weekend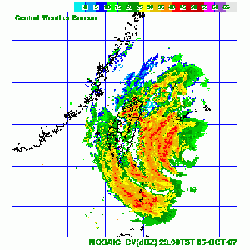 TAIPEI (Reuters) - Taiwan warned fishing boats and people going out of town for the weekend that a strong typhoon was expected to reach the island shortly after midnight, bringing heavy rains and high winds before moving on to China on Sunday.
Disaster authorities monitoring Typhoon Krosa's approach from the southeast issued land and sea warnings for most of Taiwan, pulling fishing boats back to port and asking weekend adventurers to avoid stormy beaches and mountains prone to mudslides.
British typhoon tracking system Tropical Storm Risk called Krosa a category 4 typhoon, the same size as Hurricane Katrina, which killed more than 1,700 people in the United States in 2005.
"We're calling this a strong storm," said Lin Kuan-chen, a Ministry of the Interior disaster centre inspector. "We expect high waves at the coast and downpours in the mountains."
Ferry services and flights to two outlying islands had stopped on Friday ahead of the storm, although other transportation was running on normal schedules, Lin said.
A major reservoir in northwestern Taiwan could overflow because of heavy rains, the disaster centre warned, urging people in the area to be on guard.
Krosa was 470 km off the coast of Taiwan as of 0215 GMT on Friday after picking up strength throughout the week, and was packing sustained winds of 184 kph (114 mph) and gusts of up to 227 kph, Taiwan's Central Weather Bureau reported.
In China, the Flood Control and Drought Relief Department in coastal Zhejiang province issued a notice ordering officials back to work from vacation to prepare for the typhoon, the government Web site www.china.com.cn reported.
China is on the tail end of a week-long national holiday, meaning there are likely to be more than the usual number of tourists in the province's coastal areas, the report said.
"Safeguarding the large number of individual tourists, especially those driving in private cars, independent travelers and other groups, has become the important task of each locality and department," it said.
Zhejiang was battered last year by Typhoon Saomai, the strongest China had seen in 50 years, and its coastal areas were drenched by Typhoon Wipha last month.
Krosa was expected to hit the province on Sunday or Monday, the report said, citing the Zhejiang weather bureau.
Krosa is the 15th storm of the season recorded by the weather bureau, which tracks the northwestern Pacific region.
Typhoons regularly hit China, Taiwan, the Philippines and Japan from late summer season through the end of the year, gathering strength from the warm waters of the Pacific or the South China Sea before weakening over land.
(Additional reporting by Lindsay Beck in Beijing)