Turning Grey Into Green: Greywater Recycling Systems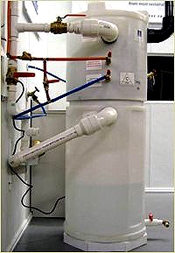 Atlanta, Georgia - First a word about something called "greywater". Greywater is basically washwater. As homeowners, we make a lot of it each day. It's all wastewater excepting toilet wastes and food wastes derived from garbage grinders. Homeowners make a lot of it each day, and no surprise, it can be re-used in your home for toilet flushing and watering gardens. Good for you, your water bill and good for the environmentespecially in drought stricken parts of the country where water is scarce. Especially when the Georgia Environmental Protection Division has recently declared a level four drought for sixty-one counties in the state.
The greywater technology, in this case a "Brac System", is designed to receive greywater -- that's water coming from your bath, shower, laundry and air conditioner. The greywater is filtered and treated bythe system, then sent on-demand for toilet flushing. By using recycled greywater for toilet flushing instead of using potable water, a typical homeowner can save 30% or more on water consumption. Most homes generate more greywater than what is needed for toilet flushing. The excess greywater is drained into the home's sewer line, or it can be used with an irrigation system on your yard or garden. Due to plumbing considerations, this particular Brac System is more easily installed during new construction or major renovations of homes. This particular greywater recycling system was named by Sustainable Industries Magazine to its list of "Top 10 Green Building Products 2007".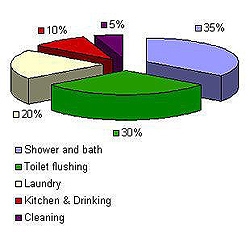 In this case, a 53 gallon (two hundred liter) unit was installed in the home of Christine and Curt Mann by Mark Spencer of Sautee, Georgia. The Mann's home is a meticulously renovated 1920s-era residence in Atlanta's historic Grant Park neighborhood. Roger Cone of Southern Energy Solutions says that this Brac Greywater Recycling System is the first of its kind to be installed in Atlanta.
This is the first Brac Greywater Recycling System installed in the city of Atlanta, Georgia. The City of Atlanta Bureau of Buildings approved the system.
Marietta, Georgia, based Southern Energy Solutions is a dealer of sustainable building products, including solar photovoltaic (PV), solar thermal water heating, Skystream wind turbines, Brac greywater recycling systems , green HVAC systems, solar heating and LED lighting. Southern Energy Solutions serves the Atlanta region and all of Georgia.
On the Web: www.soenso.com , Email: charles@soenso.com , Phone: 770-434-7211.