Moderate earthquake hits Northern California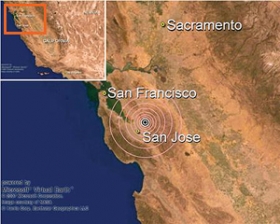 OAKLAND, California (Reuters) - A magnitude 5.6 earthquake struck in a rural area about 9 miles northeast of San Jose, California, Silicon Valley's biggest city, on Tuesday night, the U.S. Geological Survey said.
The earthquake was felt across the San Francisco Bay Area just before 8:05 p.m. (11:05 p.m. EDT). There were no immediate reports of major damage but the San Jose Mercury News Web site reported phone service failed in a part of Palo Alto, home to Hewlett-Packard computer company and Stanford University.
It said the quake caused minor damage and residents poured out of apartments in downtown San Jose to survey the damage.
"It was pretty significant. you could actually hear the rumbling of the ground. It was a good shake," said Nick Muyo, a spokesman for the San Jose Police Department.
Asked about damage, he said he knew of "nothing other than things tipping off cabinets and dressers."
The quake occurred at a depth of 5.7 miles, according to the USGS.
(Additional reporting by Adam Tanner)
© Reuters2007All rights reserved