San Francisco oil spill larger than thought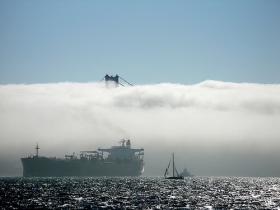 SAN FRANCISCO (Reuters) - Many beaches in the San Francisco area remained closed on Thursday as officials tried to clean up 58,000 gallons of fuel that spilled into the West Coast city's famous bay the day before.
"This is a major spill," said Wil Bruhns, a division chief at the San Francisco Bay Regional Water Quality Control Board. "It certainly has the potential to cause damage to birds, fish and other wildlife."
The Cosco Busan struck a tower of the Bay Bridge on Wednesday morning in dense fog, creating a long slash along the ship that allowed bunker fuel to spill into the water.
The Coast Guard initially called the spill minor but later realized the amount of fuel was greater than first thought. Environmentalists criticized the Coast Guard for not notifying other agencies fast enough and for being slow to put inflatable booms on the water's surface to prevent oil from spreading.
"The booms were not put in place quickly enough," said Sejal Choksi, director of programs for the environmental group Baykeeper. "We're looking at a pretty messy situation."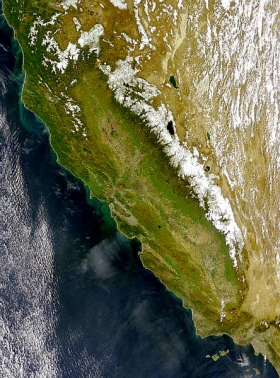 Bud Leland, deputy director of California's Office of Spill Prevention and Response, told Reuters the spill was the worst in the San Francisco Bay since his office came into existence in 1991. He said it would likely take several weeks to complete the cleanup effort.
Tides carried the bunker fuel towards the Pacific Ocean under the Golden Gate Bridge and people near the spill on Wednesday reported headaches and nausea. The spill reached the famed former prison island of Alcatraz and as far north as Marin County, environmentalists said.
HUNDREDS AT WORK CLEANING
The Coast Guard said 200 people were working on the cleanup and, as of Wednesday night, had recovered about 8,000 gallons of the oil.
Eight oil-skimming boats were in and around the bay and workers spread booms across long sections of beach and water.
The Cosco Busan, owned by China COSCO Holdings Co Ltd and leased to South Korea's Hanjin Group, left the Port of Oakland early on Wednesday and soon hit a fender around a support tower of the Bay Bridge on an especially foggy morning.
Only the fender was damaged on what is a vital transportation link between San Francisco and Oakland and Berkeley in the East Bay.
The spill forced closure of some of the region's most famous beaches, such as Crissy Field overlooking the Golden Gate Bridge and Baker Beach on the Pacific Ocean. Crissy Field is famed for its scenic views and is popular with windsurfers.
"Area Closed -- Oil Spill, Hazardous Contaminants in Water," a sign at Crissy Field read.
(Additional reporting by Robert Galbraith; Editing by Jim Christie and John O'Callaghan)
© Reuters2007All rights reserved