EU to require biofuels cut emissions 10 pct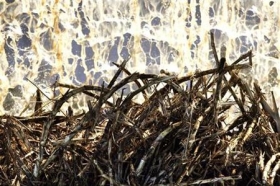 By Jeff Mason
BRUSSELS (Reuters) - The European Commission will propose rules requiring biofuels used in the European Union to produce at least a 10 percent saving of greenhouse gas emissions compared to fossil fuels, an EU official said on Thursday.
Leaders from the 27-nation bloc agreed in March to set a binding target for biofuels to make up at least 10 percent of petrol and diesel used by vehicles by 2020, a big rise from current levels of about 1.5 percent.
That goal is part of an overall aim of increasing consumption of energy from renewable sources across the bloc to 20 percent by the same year.
But the EU executive, under pressure from environmentalists, has said it would set specific criteria on biofuels used to meet that target to ensure that they are environmentally friendly.
Ewout Deurwaarder, an official in the Commission's energy division, said one of those criteria would include proving that the biofuel did not emit more climate-warming greenhouse gases than oil.
Specifically, the Commission floated a proposal of requiring biofuels to reduce greenhouse gas emissions by at least 10 percent on a "lifecycle basis," meaning from production to actual use, Deurwaarder said.
A consultation process conducted by the Commission showed support for an even stricter emissions requirement, he told a conference. "It will very likely be higher than that," he said.
Other criteria would include avoiding growing biofuel crops on wetlands and other areas that naturally store carbon.
The terrain should also not be home to large amounts of plants and animals that would lead to biodiversity loss if converted to farm land.
The new criteria would apply both to biofuels grown within Europe and those imported from other nations.
The rules will be part of draft legislation on climate change and renewable energy due to be presented on January 23.
The Commission had not made a final decision on the "sustainability" scheme, Deurwaarder said. It will aim to create a simple system that takes into account World Trade Organization requirements and other practical issues.
The rules would encourage the use of second-generation biofuels, possibly by giving them extra weight towards EU nations' targets and allowing them more state aid support.
Such biofuels are derived from waste such as straw or wood chips and so do not compete with food sources. They are not commercially produced yet.
How to define a second-generation biofuel was still up for discussion, Deurwaarder said, though the Commission was leaning towards a system based on types of raw materials.
(Editing by Anthony Barker)