Chemical Spill Threat in China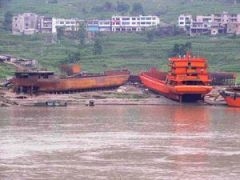 BEIJING (Reuters) - A ship carrying 130 tons of a corrosive chemical was sinking on China's vast Yangtze River on Friday, but there was immediate no sign of pollution, state media said.
The ship was carrying liquid caustic soda and was sinking in the middle reaches of China's longest river, Xinhua news agency said.
"The chemical was sealed inside the ship and no leakage has been reported, though half the ship is now under water," Xinhua said.
Investigators were testing the water quality every 30 minutes.
"The water is so far unpolluted," the agency said.
China, where water shortages are compounded by pollution, pumped a record 30.5 billion tons of sewage and industrial waste into the Yangtze last year, state media said last month.
Decades of heavy industrialization have made water from some of China's lakes and rivers so polluted it is no longer usable, with untreated waste pumped directly into water sources.
(Reporting by Nick Macfie; Editing by Jeremy Laurence)