EU eyes phasing in CO2 fines for carmakers: source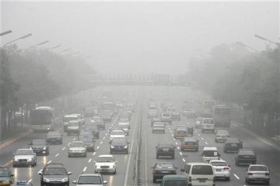 BRUSSELS (Reuters) - The European Commission is considering phasing in fees it charges to carmakers who fail to meet ambitious targets to reduce emissions of carbon dioxide (CO2) by 2012, a European Union source said on Monday.
Amid fierce lobbying, the EU executive is due to announce on Wednesday how it will share out cuts in the main gas blamed for global warming between makers of light and heavy cars.
Germany has led resistance to sharp constraints on its makers of luxury heavy cars, rejecting the Commission's key goal of forcing carmakers to reduce CO2 emissions to 130 grams/km through engine technology by 2012.
France and Italy make smaller, more fuel-efficient cars and have managed to cut their emissions.
In an attempt to soften the blow, the source said penalties for exceeding the limits would be phased in over three years.
"The polluter will pay -- but later," the source said.
Two days before the decision, senior Commission officials were not shown the figures on how the cuts would be divided between makers of big and small cars, nor the proposed level of fines, several sources said.
Those details will be decided only at a meeting of the 27-member Commission on Wednesday morning, they said.
The rules would require average carbon dioxide (CO2) emissions from new cars across the European fleet to come in at 120 grams per kilometer by 2012.
Use of biofuels and other measures to promote more fuel-efficient driving should help achieve the additional cut beyond what is required from engine technology.
(Reporting by Jeff Mason and Paul Taylor; editing by Myra MacDonald)