Tenth of China's forests damaged by blizzards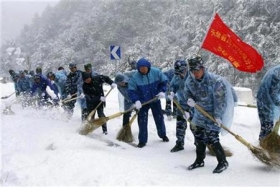 BEIJING (Reuters) - About one-tenth of China's forests were damaged by recent winter storms, the worst in at least five decades, and in the hardest-hit regions nearly 90 percent of forests were ruined, Xinhua news agency said on Saturday.
The State Forestry Administration (SFA) said total losses reached 17.3 million hectares of forest in 18 provinces in southern China, said Xinhua.
The agency did not give any value of the losses, but in an earlier report the administration said by the end of January the storms had caused about $2.5 billion of damage to China's forests.
Blizzards across central, southern and eastern China -- areas not prepared for severe winter weather -- cut power to 169 counties, killed scores of people and caused unprecedented havoc for tens of millions of people traveling ahead of the Lunar holidays.
(Reporting by Kirby Chien; Editing by Alex Richardson)