Climate change and urban sprawl alter Iditarod race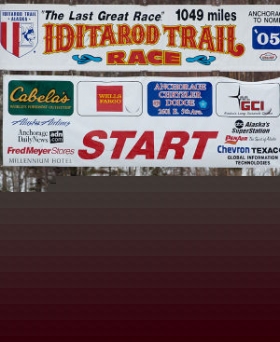 By Yereth Rosen
WASILLA, Alaska (Reuters) - Urban sprawl and dwindling snow have forced organizers of the world's most famous sled-dog race to bypass Wasilla, a fast-growing Alaskan city that calls itself "Home of the Iditarod."
The Iditarod Trail Sled Dog Race has formally moved the start of the race's timed competition to Willow, a hamlet 40 miles north of Wasilla.
The ceremonial start will be in Anchorage on Saturday, with the restart in Willow on Sunday.
The decision to skip Wasilla makes permanent what had become a nearly perennial last-minute course change for the 1,100-mile (1,770-km) race to Nome. The last time the race started in Wasilla was 2002 when snow cover was deemed adequate.
"I always dreamed of running the race through Wasilla just because that's where we live and we have a lot of fans," said Ryan Redington, the 25-year-old grandson of race founder Joe Redington. "(But) right now, you can drive down any street and you'll see green grass."
Wasilla remains the home of the Iditarod headquarters, a building that houses the race organizers' offices, a gift shop and museum. This week, it was packed with tourists, including a busload of Japanese visitors buying souvenirs.
Outside the headquarters and away from tree-sheltered areas, snow is sparse. Along Wasilla's main drag and other developed areas, there are only a few scant snow patches atop the brown earth and dried grass.
Scientists have documented a warming trend in the state. Temperatures rose an average 3.4 degrees Fahrenheit (1.9 degrees Celsius) statewide from 1949 to 2007, with the most dramatic warming occurring in winter, according to the University of Alaska Fairbanks' Alaska Climate Research Center.
WATCH OUT FOR MOSQUITOES
Four-time Iditarod champion Martin Buser, who remembers many bitterly cold races, said evidence of Alaska's warming climate is obvious at various parts of the trail.
"The warming trend is definitely visible," said Buser, who noted that mosquitoes, usually unseen during the winter months, became a problem during one of the recent races.
Aside from a lack of snow, the proliferation of driveways, pavement and traffic -- signs of Wasilla's thriving real estate development -- along the southern end of the trail has forced changes.
Alaska has changed much since the first Iditarod race was run in 1973. Anchorage's population has grown nearly six-fold since 1970.
Wasilla is one of Alaska's fastest-growing areas, a busy suburb with armies of commuters driving 40 miles to Anchorage.
The Iditarod, too, has blossomed from a shoestring affair into a major sports event, with a total prize purse approaching $1 million, fans around the globe and a scope that has outgrown some past small-town traditions.
In earlier times, mushers sprinted 20 miles from downtown Anchorage to the suburb of Eagle River before trucking their dog teams to Wasilla. Rapid growth in Anchorage and its outskirts makes that risky.
"There were washing machines and driers in the way. It was crazy. Once I hit, actually, a police cruiser," said Buser.
Now the Anchorage portion is 10 miles and not timed.
While race officials and mushers consider changes necessary, some locals at Knik Lake, formerly the last checkpoint before dog teams entered Alaska's roadless wilderness, are outraged at the breach in tradition.
"Where are they going to go with this?" said Howie Newman, nursing a beer at the Knik Bar, a weather-beaten establishment on Wasilla's outskirts that overlooks the frozen lake that in the past was jammed with Iditarod spectators.
"You take all these new mushers -- 'I did the Iditarod' -- no they didn't. Not until they've been down here."
(Editing by Daisuke Wakabayashi and John O'Callaghan)