Hurricane Ike punishing Texas coast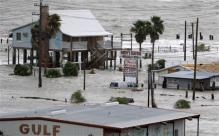 HOUSTON, Sept 13 - (Reuters) - Hurricane Ike barreled into the densely populated Texas coast near Houston early on Saturday, bringing with it a wall of water and ferocious winds and rain that could cause catastrophic flooding along the Gulf of Mexico and cripple the fourth-largest U.S. city.
Ike, which has idled more than a fifth of U.S. oil production, came ashore at the barrier island city of Galveston as a strong Category 2 storm at 2:10 a.m. CDT (3:10 a.m. EDT) with 110 mph winds, the National Hurricane Center said.
Ike barreled through the Gulf of Mexico for days and covered a vast area extending hundreds of miles (km) when it slammed into the Texas coast. It is the biggest storm to hit a U.S. city since Hurricane Katrina devastated New Orleans in 2005.
The hurricane drove a wall of water over Galveston and submerged a 17-foot sea wall built to protect the city after a 1900 hurricane killed at least 8,000 people. More than half of its 60,000 residents had fled and emergency operations were suspended through the storm.
About 50 miles inland, Ike lashed downtown Houston's glass-covered skyscrapers, blowing out windows and sending debris flying through water-clogged city streets.
Buildings were damaged and there were fallen trees and power lines across the Houston area.
Texas officials were waiting for a break in the weather to deploy a search and rescue operation.
"We expected a major storm and our expectations unfortunately came true," said Mark Miner, a spokesman for Texas Gov. Rick Perry. "The weather needs to clear up a little bit to see just what the devastation was."
The hurricane has shut down 17 oil refineries on the Gulf of Mexico, the heart of the U.S. oil sector where 22 percent of fuel supplies are processed. Energy experts said it would take at least a week for the refineries to get back to normal.
Houston was dark Saturday morning except for downtown and the Texas Medical Center, which are fed by underground power sources, Floyd LeBlanc of CenterPoint Energy said in an e-mail. Nearly all 2 million customers, or 4.5 million people, in the Houston-Galveston area were without power, he said.
"This is a huge storm that is causing a lot of damage, not only in Texas, but also in parts of Louisiana," U.S. President George W. Bush on Saturday.
He said the government would monitor gas prices to prevent extraordinary price increases because of Ike.
Ike was expected to remain a hurricane through Saturday afternoon and could dump up to 10 inches of rain over eastern Texas and southwestern Louisiana.
"Even though Ike has made landfall, it remains a very large and dangerous hurricane with effects felt at long distances from the center," the hurricane center said.
U.S. Homeland Security Secretary Michael Chertoff planned to visit the devastated area on Saturday, officials said.
EVACUATION ORDERS
More than a million Texans heeded evacuation orders and headed inland, but officials worried that many had remained.
As the storm surge swelled onto Galveston, 23,000 people stayed behind and an additional 67,000 ignored evacuation orders in Brazoria County, the Houston Chronicle reported.
There was 10 feet of water on Galveston streets when emergency operations ceased on Friday night for the brunt of the storm, the paper quoted Fire Chief Michael Varela as saying.
"We don't know what we're going to find tomorrow," Mayor Lyda Ann Thomas told the Chronicle. "We hope we'll find that the people who didn't leave here are alive and well."
There were no immediate confirmed reports of storm-related fatalities or injuries.
Some who thought they would stick it out made a last-minute exit from Galveston.
"When I woke up, my bed was floating in the house," said handyman David Daubuisson. "I just took what I could and got out."
The Coast Guard had to rescue 65 people from rising waters on the Bolivar Peninsula, east of Galveston.
Forecasters warned Ike would send water surging up the Houston Ship Canal, the second-busiest U.S. port, a complex of docks, pipelines, depots and warehouses that receives automobiles, consumer products, industrial equipment and other cargo from around the world.
A dawn-to-dusk curfew was imposed to prevent looting in Houston, where airports were closed and hotels jammed.
U.S. crude oil futures rose 31 cents on Friday to $101.18 a barrel after dropping below $100 for the first time since early April as concerns over U.S. economic weakness outweighed storm disruption fears.
Ike could be the third most-destructive U.S. storm behind Hurricanes Katrina in 2005 and Andrew in 1992, experts said.
The costliest storm in U.S. history, Katrina, devastated New Orleans and other parts of the Gulf Coast, killing 1,500 people and causing at least $81 billion in damage.
(Additional reporting by Eileen O'Grady, Erwin Seba and Bruce Nichols and Jim Forsyth in San Antonio; Writing by Mary Milliken; Editing by Doina Chiacu)