Global Warming Triggers an International Race for the Arctic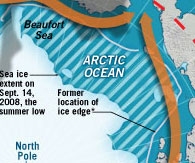 A new epoch is beginning at the top of the Earth, where the historic melting of the vast Arctic ice cap is opening a forbidding, beautiful, and neglected swath of the planet. Already, there is talk that potentially huge oil and natural gas deposits lie under the Arctic waters, rendered more accessible by the shrinking of ice cover. Valuable minerals, too. Sea lanes over the top of the world will dramatically cut shipping times and costs. Fisheries and tourism will shift northward. In short, the frozen, fragile north will never be the same.
The Arctic meltdown—an early symptom of global warming linked to the buildup of atmospheric greenhouse gases—heralds tantalizing prospects for the five nations that own the Arctic Ocean coastline: the United States, Canada, Russia, Norway, and Denmark (through its possession of Greenland). But this monumental transformation also carries risks quite aside from the climate implications for the planet—risks that include renewed great-power rivalry, pollution, destruction of native Inuit communities and animal habitats, and security breaches. "The world is coming to the Arctic," warns Rob Huebert, a leading Arctic analyst at the University of Calgary. "We are headed for a lot of difficulties."
The vast stakes, along with some political grandstanding, are inspiring predictions that a new great game among nations is afoot—a tense race for the Arctic. That scenario got a shot of drama last year when two Russian minisubmarines made a descent to the seabed beneath the North Pole and planted a titanium Russian flag. The operation lacked any legal standing but symbolized Moscow's claims to control the resources inside a mammoth slice of the Arctic, up to the North Pole itself. To calm the mood, the five Arctic coast countries gathered diplomats in Greenland this May to agree that boundary and other disputes would be handled peacefully under existing international law. "We have politically committed ourselves to resolve all differences through negotiation," Danish Foreign Minister Per Stig Möller said at the time. "The race for the North Pole has been canceled."
Article Continues: http://www.usnews.com/articles/news/world/2008/10/09/global-warming-triggers-an-international-race-for-the-artic.html