Oil and ice: a potentially horrible combination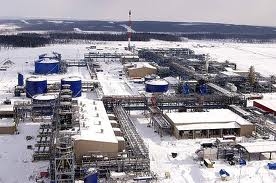 When writer Anton Chekhov arrived on the Russian island of Sakhalin in 1890, he was overwhelmed by the harsh conditions at the Tsarist penal colony.

More than a century on, Sakhalin's prisoners have been replaced by oil and gas workers, most of whom seem to agree that Chekhov's description still fits.

The sparsely populated island -- which is the length of Britain -- has some of the most extreme weather on earth. Marine cyclones and violent snowstorms rip through its forested hills, and the ocean waters off its northern coast freeze solid for a good part of the year. In winter, temperatures drop to minus 40 Celsius and snow can pile three meters high.Now Moscow hopes to attract global oil players to another extreme location: its icy Arctic waters. Shared by Canada, Denmark, Iceland, Norway, Russia and the United States, the Arctic may hold around one-fifth of the world's untapped oil and gas reserves according to a U.S. Geological survey.
At an annual conference for global oil and gas heavyweights held on Sakhalin at the end of September, Russian government officials and offshore industry professionals paid close attention to the dangers of drilling on the Arctic continental shelf. "I have attended 13 of the 14 Sakhalin oil conferences, and this is the first where government regulators were visibly and vocally concerned about offshore oil spill risks," says Michael Bradshaw, an expert on Russia's Far East energy industry and professor at the University of Leicester.
It's not that a spill is more likely in the Arctic than in a warmer, deep-water locale, says Nils Masvie, a director at Norwegian offshore risk-assessment firm Det Norske Veritas. "But you cannot extrapolate and say the risk is the same in a cold climate. No, the risk is higher."
Article continues: http://www.reuters.com/article/idUSTRE6A71IL20101108