New Google Earth Technology Allows Tracking of Environmental Changes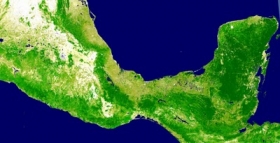 Google has unveiled an online technology that allows scientists and researchers to track and measure changes to the environment using 25 years worth of satellite data. Google Earth Engine, introduced during climate talks in Cancun, utilizes "trillions of scientific measurements" collected by NASA's LANDSAT satellite, the company said.
Google is already working on applications for tracking deforestation and mapping land use trends, including the creation of the most comprehensive scale map of Mexico's forest and water resources ever made.
That project alone would have taken three years to process using a single computer, Google officials say, but took just one day using Google Earth Engine. "No one has ever been able to analyze that entire data set for Mexico, or even come close," said Rebecca Moore, the project's engineering manager.
Google says it will offer 20 million CPU hours free to developing nations and scientific organizations to utilize the platform, which could emerge as a critical tool in the enforcement of such land management initiatives as the UN's REDD program in which wealthier nations pay developing nations to preserve rainforests.
Link to article: http://e360.yale.edu/digest/google_satellite_platform_allows_tracking_of_environmental_changes/2707/
Image shows A forest cover and water map of Mexico (southern portion, including the Yucatan peninsula), produced in collaboration with scientist Matthew Hansen and CONAFOR.
For more information: http://googleblog.blogspot.com/2010/12/introducing-google-earth-engine.html