Proposed changes to Brazil's Forest Code could hurt economy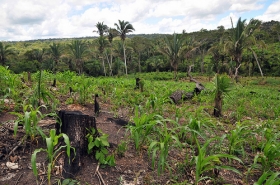 Proposed changes to Brazil's Forest Code will hurt Brazilian agriculture, argues a leading conservationist.
Carlos Alberto de Mattos Scaramuzza, WWF-Brazil's director for conservation, says the reform bill currently being evaluated by Brazil's Senate could have unexpected economic implications for Brazilian ranchers and farmers. Scaramuzza says a bill that grant amnesty for illegal deforesters and sanctions expanded destruction of the Amazon rainforest would make Brazilian agricultural products less attractive in foreign markets.
"The tendency in the world market is to expand the space for sustainable products, and consumers are increasingly averse to acquiring anything whose production involves the destruction or degradation of Nature", said Scaramuzza.
The Brazilian agricultural sector has experienced market backlash their products before. In 2006 soy crushers were hit by the threat of a boycott by McDonalds due to the fast food chain's concern over being associated with deforestation. In 2009 the Brazilian cattle industry has hit by a Greenpeace campaign that targeted major consumer products brands that source leather from Brazil. In both cases, affected producers moved to adopt stronger safeguards to eliminate deforestation from their production cycle.
Scaramuzza says that the bill, if passed in its current form next month, could also undermine the nascent market for ecosystem services. Brazil, with its ample forests and water resources, is poised to become a giant in the market, which some analysts believe could be worth tens of billions of dollars a year by mid-decade.
Article continues: http://news.mongabay.com/2011/0713-wwf_forest_code.html