Broadcasters lose their nerve over BBC's climate change program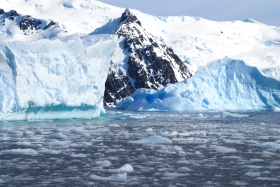 The final episode of the BBC's Frozen Planet documentary series that focuses on climate change has been canned in the US and other countries, prompting fierce criticism.
All seven episodes of the multi-million pound nature series, written and presented by Sir David Attenborough, will be screened in the UK – but the final show, entitled 'On Thin Ice', has been shelved by several foreign TV channels, including the Discovery channel in the US.
The last programme in the series looks at the man-made threat to the environment and examines how Earth's ice caps are changing and the likely consequences for the rest of the planet.
But US audiences will not be shown the final episode, where many fear a show that promotes the theory of global warming could upset viewers.
The package of six episodes has been sold to 30 countries and networks were provided with the option to buy a seventh 'optional extra' episode, along with behind-the-scenes footage.
The documentary series is said to be an epic portrait of two disappearing wildernesses – the Arctic and the Antarctic - before they change forever, and is already hugely popular with viewers in the UK.
However, according to the BBC, ten countries have chosen not to screen the final episode.
In the US, Frozen Planet is being aired by Discovery, which was jointly involved in the production of the series. The seven programmes cost £15 million to produce and took four years to film and edit.
It is understood the Frozen Planet DVD will be sold overseas, including the US, containing all seven episodes as broadcast in the UK.
Ben Stewart of Greenpeace today said: "It's regrettable that millions of viewers in the US won't be getting the full story when they watch this mesmerising series. It's like pressing the stop button on Titanic just when the iceberg appears.
Image credit: Shutterstock/Christopher Wood
Article continues at ClickGreen.