Wind, Solar...Coconuts: Small Island Developing States Commit to Renewable, Sustainable Energy for All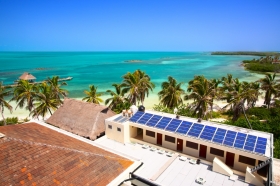 Typically heavily reliant on the cost of high and volatile diesel and fossil fuel imports, small island developing states are also on the front line when it comes to having to cope with climate change. Now they're realizing there's a lot in the way of cleaner, more efficient and less costly power and fuel resources right at home. They're increasingly, if belatedly, establishing ambitious renewable energy programs and setting aggressive targets to employ local renewable energy resources to reduce CO2 and greenhouse gas (GHG) emissions, working with a range of international development agencies, public and private sector partners domestic and foreign, in doing so.
Tropical island nations are even turning back to one of their iconic trees, one that was in the past a driver of local economies and international trade– the coconut palm. The tall, flexible and strong swaying coconut palms that grace many a tropical island post card are a renewable, naturally recyclable source of a wide range of products, including transportation fuel, oil, food and fiber. Small, enterprising companies such as Kokonut Pacific, with little or no support from banks, other lenders or corporations, are having success getting locals living on island nation states to make use of simple, appropriate technology to make sustainable, low impact use of coconuts.
Small island developing states' (SIDS) renewable energy drive has taken on international proportions. Representatives from island state around the world last week gathered in Bridgetown, Barbados for the UN Development Program's "Achieving Sustainable Energy for All in Small Island Developing States" conference.
By the end of the two-day conference, they all had put their name to the "Barbados Declaration," agreeing to call out and work for "universal access to modern and affordable renewable energy services, while protecting environment, ending poverty and creating new opportunities for economic growth."
In the agreement's annex, the governments of 20 Small Island Developing States agreed "to take actions toward providing universal access to energy, switching to renewable energy and reducing dependence on fossil fuels."
Article continues at ENN affiliate, Global Warming is Real
Tropical Solar Power image via Shutterstock