Sustainable Forest Innovations Revitalize Hard Hit Communities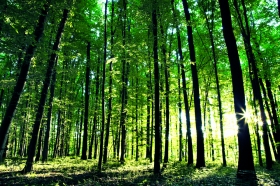 From Maine to Georgia to Arizona to Oregon, new forest-based enterprises are coming on line with financial support from New Markets Tax Credits every day. These tax credits provide incentives for private investors to fund projects that create or preserve jobs and diversify economies in distressed communities. The result is re-invention and job creation within the supply chain of an age-old industry: growing new forests, sustainably harvesting and moving the timber, and then processing it in 21st century ways by breaking down the trees into fiber and even into molecules with a variety of potential uses.
For instance, this month in rural Berlin, NH the first delivery of sustainably harvested wood to the Burgess Biomass Plant marked a milestone in the evolution of the region's forest-based economy. On track to come online by the end of the year, it is a prime example of next generation forest utilization as an economic engine. The plant is built on the site of a defunct paper mill, where it will produce 75 megawatts of power, sustain 40 jobs in management and plant operations, plus spur hundreds more jobs in the woods associated with harvesting and transporting biomass. The project received $64 million in New Markets Tax Credits, which attracted private investors to participate.
Congress first established New Markets Tax Credits in 2000 to stimulate investment and economic growth in low-income and underserved rural and urban communities that are often overlooked by conventional capital markets. Investors receive 39 percent federal tax credit over seven years as incentive to finance businesses and economic development projects in these distressed communities.
The New Markets Tax Credits program has been the impetus for projects on the cutting edge in the forest product industry over the last decade. The program has allowed for millions of acres of timberlands to be managed as sustainable forests available for both industrial and recreational use, as well as creating jobs through continued innovation in the use of forest products from high speed lumber manufacturing, to composite material manufacturing, to cellulosic fuel. These targeted private capital investments are helping to reinvent local economies and protect their future viability using environmentally sustainable practices.
Read more at Triple Pundit.
Forest image via Shutterstock.