Carbon credits from Mangrove preservation in Kenya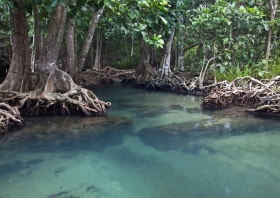 A new initiative launched today will raise money for community projects in Kenya by protecting and restoring the country's dwindling mangrove forests.
The plan is to sell carbon credits earned by preserving the mangrove swamps to companies and individuals aiming to offset their carbon emissions and improve their green credentials.
The scientists behind the scheme hope it will bring in some $12,000 a year, around a third of which will fund projects in areas like education and clean water. The rest will cover the cost of protecting the mangroves, as well as planting new seedlings to replace lost trees.
'Mangrove forests are one of the world's most threatened natural ecosystems, with 20 per cent lost in Kenya over the last quarter-century,' says Professor Mark Huxham of Edinburgh Napier University, one of the project's leaders. 'When mangroves are destroyed, the carbon that has been stored in the forest soil and in biomass, built up over thousands of years, is released to the atmosphere and contributes to climate change.'
Mikoko Pamoja ('Mangroves Together') focuses on Gazi Bay, a mangrove-rich coastal area south of Mombasa that's home to around 3000 people. Initially it'll cover 117 hectares of mangrove, but Huxham and his colleagues hope this will expand over time, and that other communities in Kenya and beyond will be inspired to set up similar initiatives when they see the benefits here.
It's the brainchild of Huxham and Dr James Kairo from the Kenya Marine and Fisheries Research Institute, with backing from international NGOs including the Earthwatch Institute and the World Wildlife Fund, from UK insurer Aviva and from the Ecosystem Services for Poverty Alleviation programme, which is partly funded by NERC.
'Thanks to the work of Earthwatch volunteers and local people we've built up an excellent relationship with nearby communities,' explains Huxham. 'Mangrove trees are a really important part of everyday life in Gazi Bay and also have spiritual importance to local people.'
Mangrove trees photo via Shutterstock.
Read more at Planet Earth Online.