Team 11th Hour to run the most eco-efficient cross-continental sailing race ever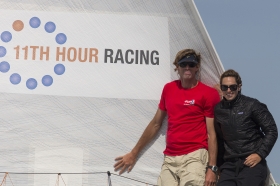 World-class sailors Rob Windsor (Long Island, NY) and Hannah Jenner (Shropshire, England) are teaming up with Team 11th Hour Racing to run the most eco-efficient race in the history of sailing at the 20th anniversary of the Transat Jacques Vabre, considered the "Super Bowl" of offshore sailing. The team will set eco-firsts by implementing eco-friendly solutions to race more efficiently and minimize environmental impact during the month-long, 5,6000-mile sailing race that begins on Nov. 3rd in Le Havre, France and ends in Itajai, Brazil.
Windsor and Jenner will be the first team to use microgreens on board and are believed to be the first team to eliminate trash dumping almost entirely during a major offshore ocean race. In all, Windsor and Jenner will implement a total of 11 on-board eco-friendly solutions.
Highlights include:
 - The introduction of microgreens: Microgreens are tiny young greens are grown on the boat, providing an energy-efficient and nutrient dense source of produce.
- The elimination of trash dumping: The only waste thrown into the ocean during the trip will be toilet paper. Typically, teams dump all trash except for plastic overboard.
- The utilization of a hydro-generator: A hydro-generator uses the movement of the boat to charge batteries and generate power, replacing the need for diesel fuel and limiting the use of energy.
- The use of a water-maker: A water-maker converts seawater into fresh water through osmosis, eliminating the need for plastic water bottles.
Although implementing all 11 eco-friendly solutions during the race will be a challenge, Windsor and Jenner are committed to putting the environment first.
"I feel strongly that anyone competing at the professional level has a responsibility to demonstrate good practice and for us that good practice means looking after the oceans we compete on," said Jenner. "If we can go out and hunt down a podium position while setting an example to sailors around the world then we will be a happy team."
"I think we all have a responsibility to future generations to do everything we can to protect the environment," said Windsor. "Using Hannah's smarts and my brawn puts us in a position to do really, really well as a team."
The skippers of 11th Hour Racing are expected to contend and are trailblazers in more ways than one. Windsor is the only American competing and Jenner, who finished 3rd in 2011, is the second youngest female to ever compete in the event.
Read more about the 11 eco-friendly sailing solutions at Team 11th Hour Racing.
Team photo courtesy of 11th Hour Racing.