Deforestation may hurt US agriculture, affect monsoon cycle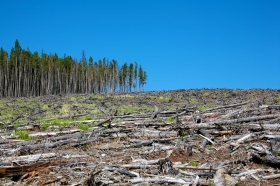 Unchecked deforestation will have far-reaching impacts on temperature, rainfall, and monsoon cycles in regions well outside the tropics, affecting agriculture and water availability, warns a new report published by Greenpeace International.
The report, titled "An Impending Storm: Impacts of deforestation on weather patterns and agriculture", is a synthesis of dozens of recent scientific papers that assess the effects of forest cover loss on weather patterns, local climate, and agricultural productivity.
While noting that there remains a great deal of uncertainty on how deforestation affects weather and climate, the report says "many models show wide scientific consensus that deforestation has the potential to disrupt weather and climate systems on a local, regional and global scale."
An Impending Storm cites examples from the Amazon, West Africa, Southeast Asia, and the world's boreal forests.
"Modeling suggests that loss of forests in areas such as Amazonia and Central Africa can severely reduce rainfall in the US Midwest at times when water is crucial for agricultural productivity in these regions," states the report, which goes on to summarize several potential indirect impacts of deforestation at regional scales, including worsened air pollution, reduced coastal production, increased temperatures, and altered monsoon cycles.
Greenpeace concludes with a call to embrace the precautionary principle by protecting forests and the services they afford humanity.
"Employing the precautionary principle and conserving existing forest ecosystems under a 'Zero Deforestation' footprint is the only way to ensure that forests continue to regulate our weather and climate, minimize the indirect effects of deforestation and conserve biodiversity."
Summary of potential regional impacts of deforestation from the Greenpeace report:
Indirect impacts of Asian deforestation
  - Rainfall: Southeast Asia is modeled to have a 1mm/day decrease in rainfall throughout the year if forest cover loss is complete (Werth & Avissar, 2005a), with southern China and Vietnam undergoing a 20-30% decrease in rainfall (Sen et al., 2010).
- Temperature: Models indicate a regional increase in air temperature of 1°C after complete deforestation (Schneck & Mosbrugger, 2011).
- Monsoons: It was suggested that the East Asian monsoon flow would weaken over eastern China and the South China Sea, but become enhanced over mainland Southeast Asia after complete deforestation (Sen et al., 2004; Sen et al., 2010).
- Oceans: Surface temperatures could reduce by up to 1.25°C in the Southern and South Indian Oceans, but increase by 0.75°C in the South Pacific Ocean after complete deforestation, impacting ocean circulation (Schneck & Mosbrugger, 2011).
Continue reading at ENN affiliate, MONGABAY.COM.
Deforestation image via Shutterstock.