Thames Barrier Protects City from London Flood Surge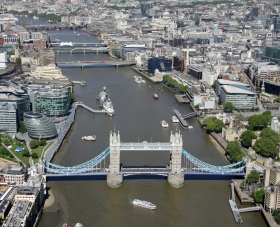 The closure of the Thames and Hull Barriers last week saved 800,000 homes and businesses from flooding in what was the highest sea surge since 1953.
However thousands of homes along the UK's east coast were flooded following a combination of high tides and powerful onshore gales. A similar surge in 1953 caused widespread devastation, killing 307 people and leaving 40,000 homeless.
The Environment Agency's chief executive, Dr Paul Leinster, said: "We estimate that at least 800,000 homes and businesses have been protected by flood schemes in the past 24 hours.
"Flood risk management assets, including the Thames and Hull Barriers, have protected thousands of homes and businesses from sea levels higher in some places than those that occurred during the devastating floods of 1953."
Read more at ENN affiliate, The Ecologist.
Thames River image via Shutterstock.