Amazon forest loss and water supply are linked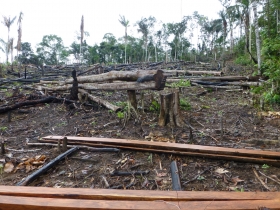 Water, food supplies and energy production are all in jeopardy as the Amazon forest is felled for profit. And as Paul Brown writes, the damage is spreading well beyond Amazonia itself.
The combination of industrial and agricultural pollution and droughts is creating a once unthinkable vulnerability for the five countries of Amazonia.
The continued destruction of the Amazon to exploit its resources for mining, agriculture and hydro-power is threatening the future of the South American continent, according to a report by campaigning groups using the latest scientific data.
Five countries - Bolivia, Brazil, Colombia, Ecuador and Peru - share the Amazon, and for all of them the forest area occupies more than 40% of their territory. All face threats to their water supply, energy production, food and health.
In addition, the report says, because of the over-exploitation of the region rainfall will fall by 20% over a heavily-populated area far to the south of Amazonia known as the La Plata basin, covering parts of Argentina, Brazil, Bolivia, Paraguay and Uruguay.
Last month it was reported that deforestation in Amazonia had increased by almost a third in the past year, with an area equal to 50 football pitches destroyed every minute since 2000.
Amazon deforestation photo via Shutterstock.
Read more at ENN Affiliate, The Ecologist.